Before directions provided by Google Maps, the interstate highway system, cars, the transcontinental railroad, and the Erie Canal, a traveler in New York City could expect to spend a whole day and night traveling over what a suburban commuter now does in an hour.
Philadelphia became a one-day trip for New Yorkers by 1830, but Washington was still more than 24 hours away. In 1930 St. Louis was just barely reachable by train in a day, but Denver was in reach that same year by plane. In 1934 TWA was able to fly three-stop service from New York to Los Angeles in 18 hours.
The travel time estimates are part of the Atlas of the Historical Geography of the United States, published in 1932. The maps were recently digitized and made available online by the Digital Scholarship Lab at The University of Richmond. The original text of the atlas notes that in 1800 stagecoach access from New York couldn't get you out of the Northeast and a trip to Charleston, South Carolina would take 10 days of sailing. Here are the maps as they appeared in the atlas: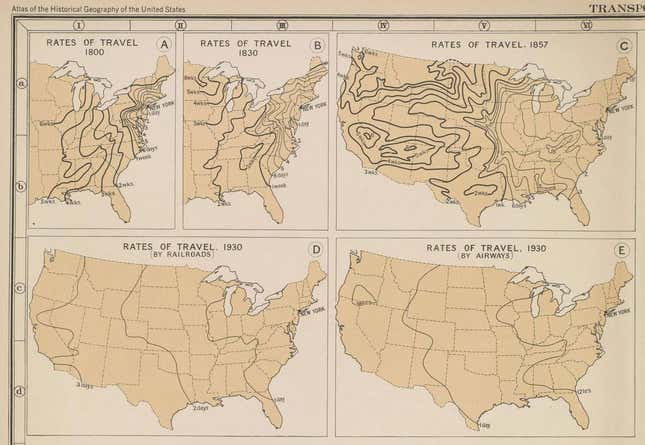 Today's speed is a testament to infrastructure investment and technological improvements. The golden spike was driven into the transcontinental railroad in 1869. The first Model T hit the road in 1908. The US interstate highway system was funded in 1956. In 1957, before he was an astronaut or US senator, John Glenn flew his fighter jet from coast to coast in three hours and 23 minutes—at times traveling faster than the speed of sound. This year, Elon Musk announced his plans to build a tube-enclosed supersonic train—known as a hyperloop—that would make the trip between San Francisco and Los Angeles in 30 minutes—faster than Glenn's plane.