Chinese leaders are now banned from smoking in public, using public funds to buy cigarettes, or smoking or offering cigarettes when performing official duties, the Communist Party said in a circular made public Dec. 29, the latest attempt to curb cigarette consumption in a nation of more than 350 million smokers.
As Quartz has reported earlier, the government's attempts to get its citizens to quit have a formidable opponent—the government itself. China is the world's largest manufacturer and consumer of cigarettes, with sales providing as much as 10% of overall tax revenue and nearly half of revenues in tobacco-producing states.
The quality (and continued consumption) of cigarettes is so important that China employs state-sanctioned cigarette tasters who smoke all day long for their livelihood. Some of the most expensive state-produced cigarette brands (link in Chinese), like "Yellow Crane Tower" and "Diamond" are made mostly for government officials to give and receive as gifts, contain special ingredients like caterpillar fungus and hand-selected tobacco, and can cost more than $30 a pack.
It's an imported habit. Although tobacco was consumed in China as early as the 1500s, cigarettes didn't arrive until the late 1800s, according to the archives of the US's Duke University, which credit the school's founder:
Immediately after the invention of the cigarette machine in 1881, James B. Duke (1865—1925) is reported to have leafed through a world atlas to survey the population of foreign countries. Coming to the figure 430,000,000, he exclaimed, "That is where we are going to sell cigarettes." The country was China, and in 1890 the Dukes exported the first cigarettes to the populous Asian nation.
China's top leaders took up the practice with gusto. Mao Zedong was often pictured with a cigarette in his hand, as in this often-reproduced 1957 shot of him meeting the all-female Third National Congress of Chinese Communist Youth League, who appear to be vying to offer him a light: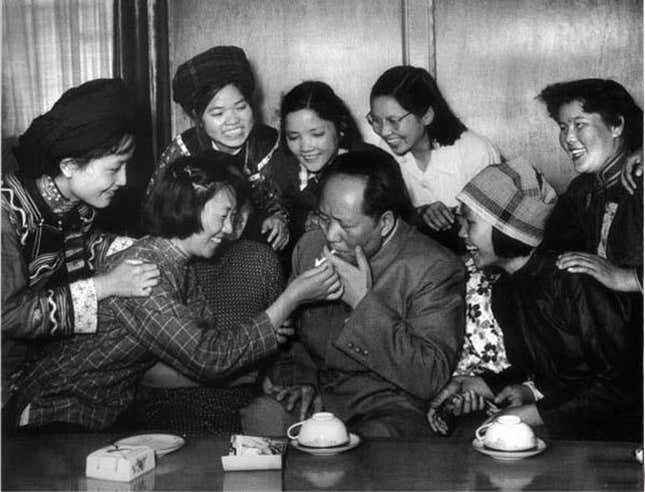 In a tell-all biography, Mao's personal physician wrote that the leader responded with a joke when he criticized Mao's chain smoking, saying "Smoking is also a deep-breathing exercise, don't you think?"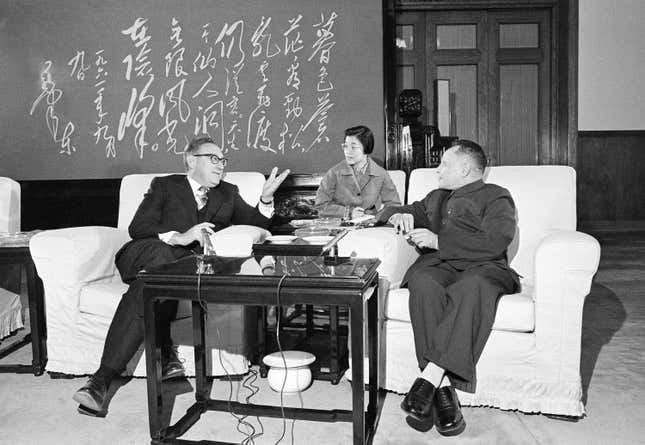 Mao's successor Deng Xiaoping, another chain smoker, loved expensive Panda cigarettes, and often proffered them to visiting dignitaries. Here he speaks with former US Secretary of State Henry Kissinger, while preparing to light up:

China's current generation of top leaders, though, are a marked contrast to their predecessors ones: none of the current members of the Central Politburo Standing Committee, the all-powerful seven-man group that runs the country, are smokers. President Xi Jinping's wife is a vocal anti-smoking campaigner.
China's leaders were far from alone, of course, in their love of tobacco. Tobacco was banned in Britain's House of Commons in the 1690s, but smoking and snuff-taking were still common in Parliament for centuries after, and tobacco has a long history among Catholic religious leaders. Tobacco use stretches back to nearly the beginning of the US presidency (here's a comprehensive history from Cigar Aficionado) and until the 1980s, US presidents offered special packs of cigarettes to guests and aboard Air Force One. In this 1963 photo, president John F. Kennedy plays with his daughter next to an ashtray while the first lady lights up behind him: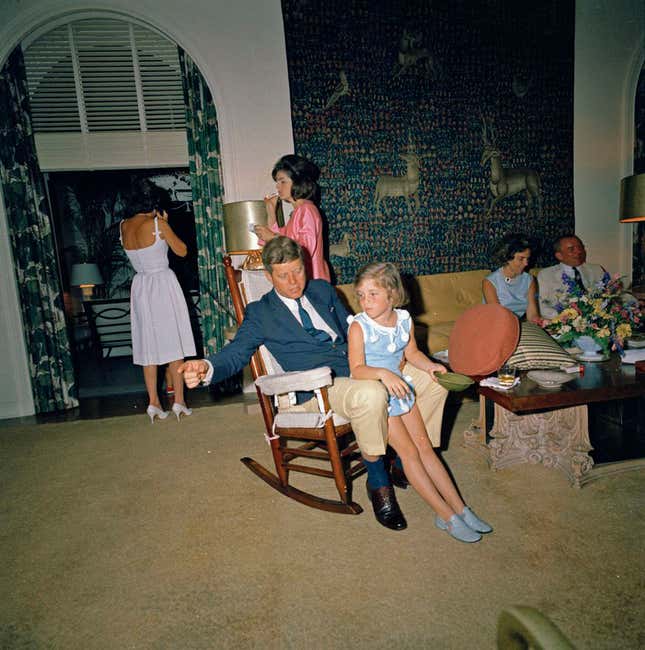 Whether the current ban will actually have any effect on smoking rates in China or not is doubtful. An earlier government ban on smoking indoors (which applies to everyone, not just government officials) has been mostly ignored, and while top officials have quit or never started, over half of Chinese men are smokers.
Gang Yang contributed reporting.