Presidential staffers have long complained about the current White House being a deeply unpleasant place to work. It has been called a "snake pit" by commentators, and former chief of staff John Kelly reportedly said working for Donald Trump was the "worst fucking job I've ever had." Apparently recognizing the importance of employee morale after more than two years into Trump's first term, the administration is seeking outside help to improve things.
According to federal spending data reviewed by Quartz, the Executive Office of the President has paid an executive coaching firm almost $18,000 for "training."
"We create amazing cultures where people love to be at work and deliver world-class results," the company, Charthouse International Learning Corporation, says on its website.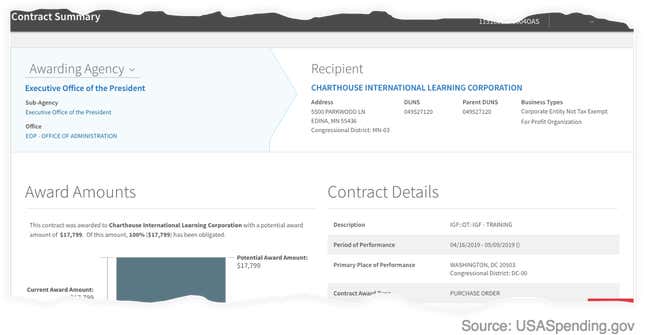 Kris Mauricio, the company's training manager, declined to answer questions or provide details about the contract. "We hold a very strict confidentiality code with our clients and can't discuss whether or not we have done business with them unless they have specifically identified that we can," she told Quartz.
A White House spokesman confirmed the training did occur, and said it was meant for career civil service staffers.
Based in Eden Prairie, Minnesota, Charthouse has worked with the Department of Defense, Department of the Interior, and the Veterans Administration in 2007, 2008, and 2011. But this is the first time the company has worked with the White House, according to government spending data. The administration is paying significantly more for its services than other agencies have in the past; the costs have ranged previously from $122 to $10,500.
Charthouse says it strives to "improve teamwork, retention, service, innovation, and morale." It uses a proprietary method it calls "FISH!" which pays homage to a group of enthusiastic (and successful) fishmongers the founder's son says he met in Seattle.
As CharterHouse's website explains:
The fishmongers greeted strangers like old friends. Despite the noise and bustle, when a fishmonger focused on serving a customer, it was as if they were the only two people in the world. Everyone was smiling—and buying lots of fish. John noticed that selling fish looked cold and exhausting, yet these fishmongers attacked their work with energy and engagement. He wondered, "How do they do it?"
"When people experience how good it feels to be appreciated—and appreciate others—they focus on what they can 'give' rather than what they can 'get,'" the company tells prospective clients.
Charthouse says it has worked with a number of Fortune 100 companies, including Target, McDonald's, Apple, and Lockheed Martin. Its marketing materials advertise techniques such as attracting and retaining millennials ("They want to know their work has purpose") and building trust among co-workers ("The common thread in high-performing teams is that members encourage and 'ignite' each other").
This story has been updated with comment from the White House.