This post contains spoilers for season 8 episode 6 of Game of Thrones.
After nearly a decade, the Game of Thrones has finally been won in a surprise upset by Bran Stark. Throughout the season, we lost no less than 14 of the 30 characters in our original bingo board, making for a sufficiently bloody (albeit narratively dissatisfying) final season: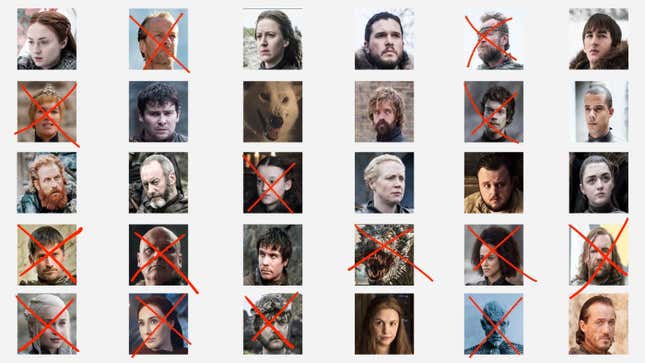 Which brings us to Quartz's Game of Thrones death pool, which 2,348 readers filled prior to the show's final episode. They guessed the likelihood of death among the HBO show's eight remaining central characters, accurately identifying Daenerys Targaryen as the the one most likely not to survive.
Here's the distribution of how the characters were ranked this past week:
We hope your respective death pools went as smoothly as ours. It seems that readers anticipated the show's concluding death, suggesting that a series built on surprising plot twists became, in the end, entirely too predictable.