Today is the last day of the lat. Latvia's national currency will go the way of the deutschemark, franc and lira tomorrow, to be replaced by the euro on Jan. 1. The tiny Baltic nation will become the euro zone's 18th member.
Although undoubtedly a momentous event, the lat's value has been tightly pegged to the euro since 2005, so the economic disruption of the switchover is limited. The country even maintained this peg during a brutal recession in 2008-09, when the economy shrank by a fifth and the temptation to devalue was great. Although Latvia is now the fastest-growing economy in the EU, around half the country is against the switch to the euro, according to recent opinion polls. The euro zone is also a bit wary of its newest member, given many Latvian banks' reliance on Russian deposits.
Whatever these misgivings, the euro changeover is a done deal. Both the lat and euro will circulate for two weeks at a fixed exchange rate, before the lat ceases to be legal tender on Jan. 15. One of the quirkier implications of the switch is that, on this day, the world will lose one of its most valuable banknotes: the 500-lat note.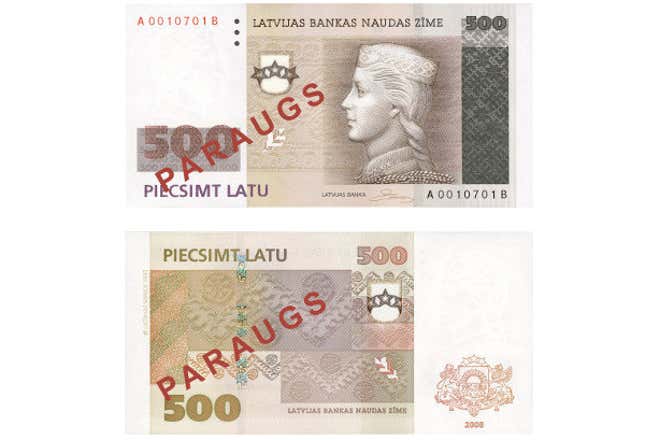 At the current exchange rate, the 500-lat note is worth around $982. Among currently issued banknotes in general circulation, only the 10,000 Singapore dollar note ($7,908) and 1,000 Swiss franc note ($1,123) are currently worth more.
The withdrawal of the lat will make its successor high-denomination banknote, the 500 euro bill ($688), the world's third-most valuable banknote. But some vestiges of the lat will live on—Latvian euro coins will feature the same folk maiden to the one that appeared on the 500-lat note, albeit without her former spending power.