Europe's mid-season soccer transfer window, the last chance for high-rolling clubs to add players to their squads before the soccer season's end in May, is officially underway.
The window, which opened today and runs through end-January for major European leagues, comes during one of the closest-ever races for the English Premier League (EPL) championship since the league was formed in 1992. Prices for players are typically higher in January than they are in the longer offseason/summer window, when transfers are also permitted. In January, clubs become desperate to bring on better players that can salvage losing seasons (or cement winning streaks).  

Spending by soccer clubs on player transfers has long defied the gloomy economic outlook in the UK and Europe, and frothy prices can only go up as the European economy continues to strengthen. 

That means prices payed for players in the EPL, for example, could reach new highs. In the summer alone, net spending on transfer fees in the EPL (that is, the amount spent by clubs on fees to buy new players, minus the amount recouped in fees from player sales) was already at a record high of £433 million ($693 million), according to the soccer analysis website transfermarkt.co.uk. Yet it will still take some major deals to eclipse the £823 million ($1.3 billion) in gross fees paid out by English clubs on transfers in 2008-9  (the season when Abu Dhabi's state-owned investment fund bought Manchester City).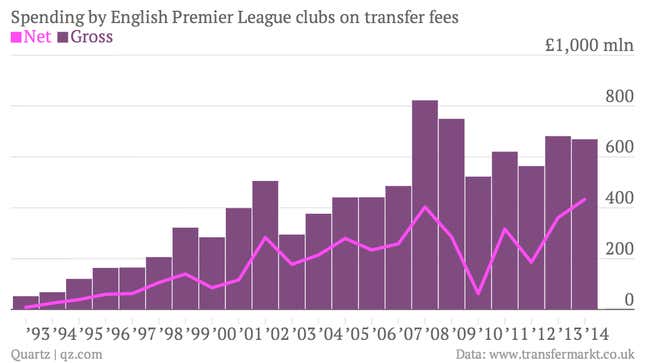 In the European soccer system, hefty transfer fees (a new world record was set in September when London-based Tottenham Hotspurs sold star player Gareth Bale to Real Madrid for about $130 million) go almost completely to the selling club, not the player. Clubs don't have to "trade" another player as they do in US sports, or give up draft picks to get hold of their desired target; they can just buy the player for cash. A buying club and selling club simply need to agree to a price. But for a transfer to go through, the buying club must also agree to meet the player's salary requirements.