For the first time ever, in 2013 smartphones outsold feature phones, and the dean of Silicon Valley tech investing, Marc Andreessen, says that within three years you simply won't be able to buy a non-smartphone. But what proportion of phones in use right now are smartphones?
Less than half, is the answer, and it will be that way for at least 2-3 more years. In November 2013, Ericsson, the venerable Swedish maker of the infrastructure that supports cell phone networks, released a report suggesting we won't exceed 3.5 billion smartphone subscriptions until 2016. The total number of mobile subscriptions, however, will exceed 7 billion by 2014, according to the International Telecommunications Union.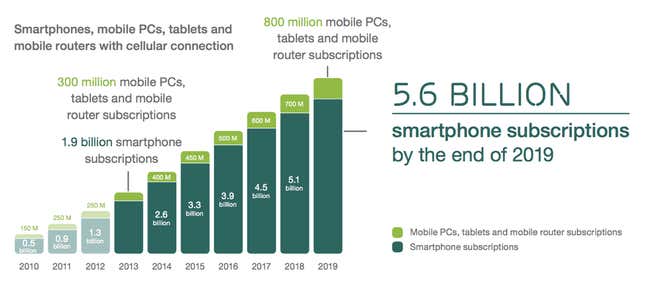 Meanwhile, the total number of mobile phone numbers will also be growing, and will exceed the number of people on earth thanks to countries like India, where many people have more than one phone to take advantage of price variations in different places.
Of course, a smartphone isn't nearly as useful if you don't have a data connection good enough for browsing the web, downloading apps, streaming music and video, and using maps. Only 30% of the world's 7 billion mobile subscriptions included mobile broadband in 2013, says the ITU. But according to some estimates, most mobile subscribers will likely be internet-connected within the next decade.
In 2014, the smartphone and tablet industry will take big strides in that direction: Usable smartphones manufactured in the motherland of cheap electronics, Shenzhen, will be had for $20, at least in China. In the higher-end market, sub-$200 phones from Chinese smartphone manufacturer Xiaomi will put pressure on Samsung, says mobile survey company Jana. Xiaomi is already worth $9 billion, pre-IPO. And Datawind, the ultra-cheap provider of tablets to the Indian government, plans to bring its Ubislate tablet to the US for $38 by July.
With phones and tablets that cheap, the bottleneck for most people won't be their device, but the cost and quality of mobile access. As Ericsson's report shows, there are vast disparities in the speeds of mobile broadband.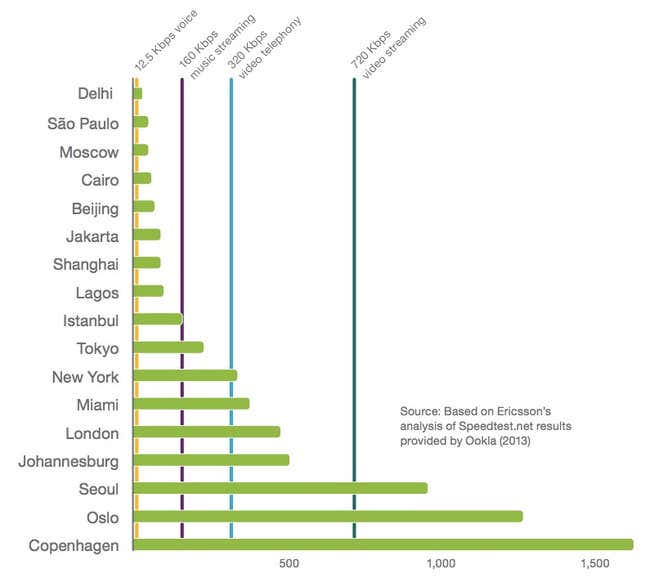 Those disparities won't be solved in 2014; for countries like India and Brazil to catch up requires massive spending on mobile broadband infrastructure. Even so, the effects of mass buying of smartphones will be felt by multinationals like Facebook, which in the next year could gain most of its revenue from emerging markets. This will also be the year that India becomes Facebook's biggest market by users.
This is part 4 in a series.
Coming next: 2014 is the year of the electric car
Join Quartz technology, science and health editor Christopher Mims, Re/code co-executive editor Kara Swisher, and Wall Street Journal technology columnist Farhad Manjoo for a live video discussion on the year ahead in technology, this Wednesday January 8 at 1pm ET. The event will be hosted by Quartz editor-in-chief Kevin Delaney. 
You can submit questions on Twitter with the hashtag #techin2014, on our Facebook page, on Google+ or through annotations on this article.