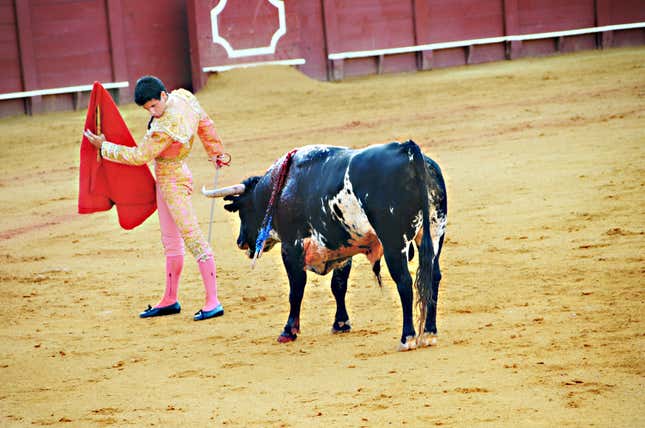 Moody's rating agency affirmed the Spanish government's Baa3 credit rating today, maintaining its negative outlook. The lack of a downgrade means Spain's rating is still "investment-grade," albeit on the lower end of that distinction.
Spain was downgraded by Standard & Poor's last week, though its new rating with that agency is still investment-grade too. There had been speculation that Moody's would cut Spain's rating even further to "junk" level, with disastrous consequences for the government's debt-servicing costs and the ratings of Spanish companies.
First and foremost, Moody's credits the European Central Bank (ECB)'s "willingness…to undertake outright purchases of Spanish government bonds to contain their price volatility" (otherwise known as the OMT program) with stabilizing the country's rating. It explicitly assumes that the Spanish government will receive assistance from Europe's bailout fund. The agency also said it has faith in the country's reform process and the efforts of European leaders to recapitalize the country's flagging banking sector.
While investors have been waiting for Spain to ask for a bailout for the last few months, the country has yet to make a formal request for aid. Doing so would likely subject the Spanish government to harsh budget and reform conditions, and conflicting reports indicate that both German and Spanish leadership could be resistant to taking this next step.
While Moody's says it has taken the country off downgrade review for now, it emphasized that Spain faces severe downside risks. In a press release on the ratings action, Moody's writes:
[T]he wider European environment remains fragile. The ECB's OMT announcement has bought time for the euro area authorities to push forward the broader financial, fiscal and economic reforms that are needed to address the institutional flaws that led to the crisis and to avoid further shocks to the financial system. However, there is significant uncertainty around the limits on the ECB's willingness to undertake debt purchase operations on a large scale.
Moody's says that it will downgrade Spain "if [the agency's] current expectations regarding euro area and ECB support were to fail to materialise," or if Spain fails to meet its reform goals.
Read the full release from Moody's here.