The website Thrillist recently figured out which countries offer the cheapest beer in the world, using crowd-sourced data. It made us wonder: In which cities can you find the cheapest beer? What if it's on tap at a restaurant, or in the bottle at a market? And what if it's an import or a domestic beer? Here's what we found: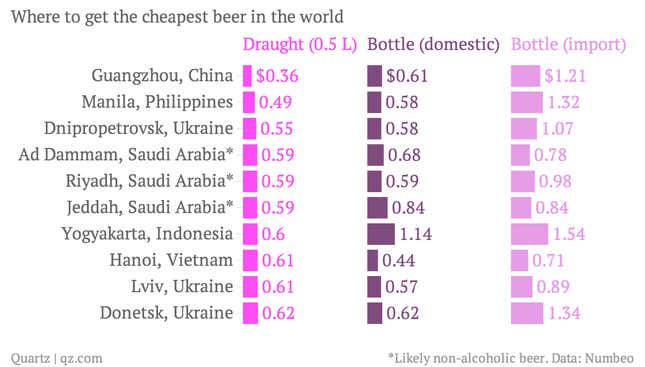 The cheapest pour to be had is in Guangzhou, China, followed by Manila, Philippines. It's no surprise that two developing countries with two thriving beer economies have cities that top the list of cheapest beers worldwide. Beer consumption per capita is among the highest in the world in China, and cheap beer is especially popular. In the Philippines, the beer market is highly mature, and almost 100% of it is produced locally.
More puzzling is the high ranking of Saudi Arabia, where alcohol consumption is banned. Its placement is likely based on prices for non-alcoholic beer, which is popular in the country and cheaper to produce. It would be hard to fathom alcoholic beer being that cheap under prohibition.
Similarly, in Ukraine, low-alcohol beers (which are cheaper to produce than their boozier brethren) have been taking off.
Now that we've gone through the cheapest beers around the world, let's look at the most expensive: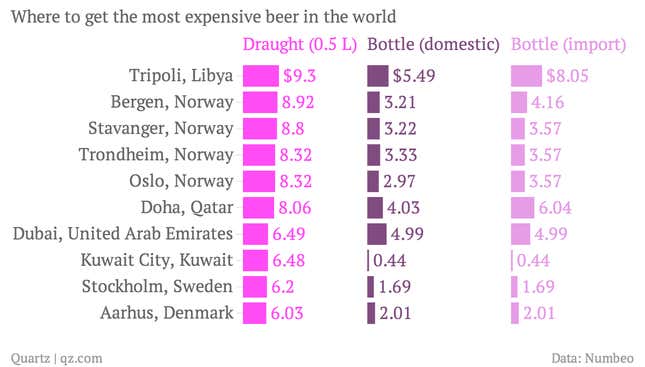 Note that alcohol is illegal in both Libya and Kuwait, though in Kuwait, the illegal booze trade is so developed that at least one website has published a list of reasonable alcohol prices. In Qatar and the UAE, alcohol is not illegal, but consumption is heavily restricted, and you can only get a beer on tap from certain international hotels, so it makes sense that beer would be pricey.
As for Scandinavia, well, it's just an expensive part of the world in general.