This article has been corrected.
Chinese officials have pledged to reduce the country's voracious coal consumption. But at the same Beijing has approved the building of 15 new mines capable of producing a little over 100 million tonnes (110 million tons) of coal a year—about 10% of America's annual usage, and 3% of China's current production.
The incredible amount of coal China produces and consumes—in 2012, it accounted for almost half the global total—is one of the largest contributors to urban air pollution and global warming. Officials have tried to improve the air quality in cities like Beijing Shanghai by imposing local coal production quotas and reducing the country's reliance on coal, including a possible game-changing natural gas deal with Russia. But growing energy needs—demand is expected to reach twice that of the US by 2040 (pdf, p.26)—means that coal, the cheapest way to fuel China's economy, is still king.
The government's solution is to continue coal production but move it to more remote areas of the country. Reuters reports that Beijing approved 100 million tonnes of new coal production capacity last year, six times more than the previous year's increase (and a 2.7% growth in overall production), including several new mines in the northwest. Coal production is being consolidated with the closure of small mines around areas like Beijing and the building of new ones in Inner Mongolia and Shaanxi province.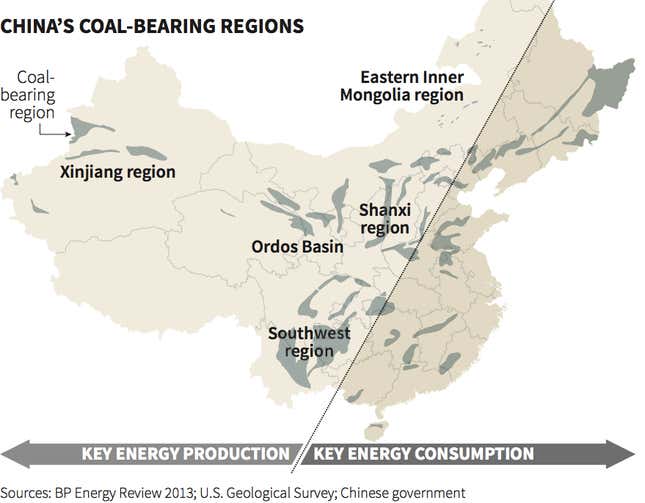 Shifting coal production will merely transfer air pollution and water scarcity problems to other parts of the country. Inner Mongolia is already one of three provinces with the most deaths due to coal emissions. The country's former health minister acknowledged this week that air pollution causes up to half a million premature deaths each year in China, with half attributed directly to coal plants.
Correction: An earlier version of this story said in the headline and text that China had boosted coal production six-fold, when it was actually the increase in production that had grown six-fold. The headline and text were changed to reflect this.