Some 90 million Indians have migrated from from farms to cities in the last 10 years, part of a global tide of urbanization that has helped lift many developing nations out of poverty. But a dire slump in the Indian economy is threatening to reverse the tide, and send poor, unemployed migrants back to the countryside in search of work.
India's Crisil Research projects that 12 million people will return to low-productivity farm jobs by 2019 because of a lack of economic opportunities in the manufacturing sector, unless the government carries out long-debated labor market reforms and improves crucial infrastructure. The country has moved about a quarter billion people to cities in the last forty years, but much of its projected economic growth is reliant on the trend accelerating over the coming decades.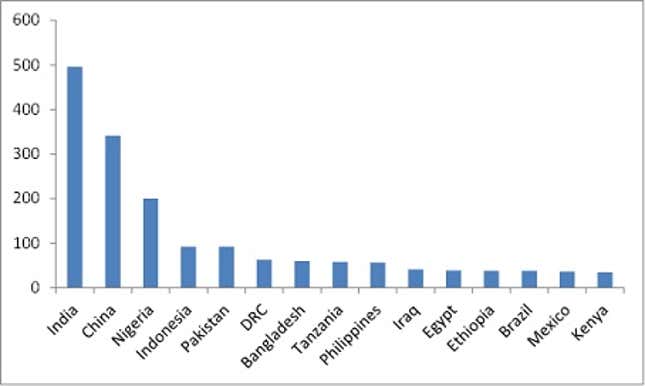 India's economic growth sank to a decade-low 5% in 2013, stung by inflation, slowing global demand and persistent infrastructure woes. Outgoing prime minister Manmohan Singh said on Jan. 8 that growth is unlikely to pick up in the current fiscal year. The ruling Congress Party's flagship rural jobs program—which guarantees unskilled work for rural laborers at the cost of about $5.5 billion a year—may also be making city life a bit less attractive.
Not everyone agrees that the economic downturn will send recent urban migrants back to the farm. Care Ratings chief economist Madan Sabnavis told the Financial Express that the growing services sector will absorb excess labor in manufacturing. And World Bank economist Tara Vishwanath has found that much of India's urbanization will actually take place in suburban areas at the edges of India's megacities like Mumbai and Delhi.