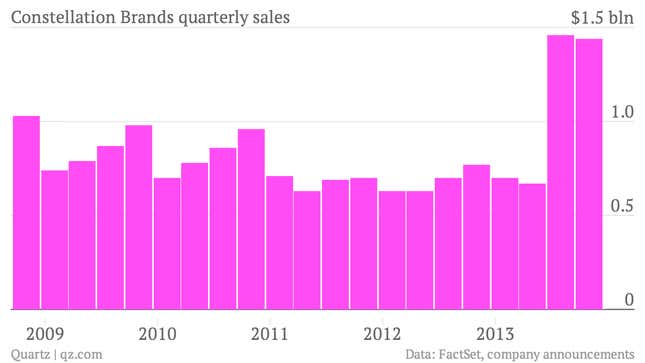 The numbers: Cheers! US-based Constellation Brands reported a 93% year-on-year increase in fiscal third-quarter profits, to $211 million. Revenue was $1.44 billion, up 88% from a year ago. The company also raised its forecast for fiscal 2014 (which for the company, ends in February) by about 7%. Shares have climbed about 10% in early trading.
The takeaway: Salud! The company's $4.75  billion deal to gain full distribution full rights for Mexican beers such as Corona, Modelo and Pacifico is what fueled the result. Net sales for beer were $661.6 million, about 32% of the company's total top line. That's up up 21% from a year ago (when the division was still in a joint venture between Constellation and Mexico's Grupo Modelo), thanks in part to strong consumer demand. By comparison, wine and spirits sales edged up up only 3%, to $711.9 million.
What's interesting: So much for Mexican beers being best drunk in summer. "The strong marketplace momentum we experienced this summer for our beer portfolio, especially Corona and Modelo Especial, continued throughout the fall and into the holiday selling season,"  Rob Sands, Constellation's president and CEO, said in the earnings release.