Toymaker Lego has been selling toy building kits for Maersk ships since the 1970s, and their latest version—of the world's largest container ship, the Triple-E—sold out in two weeks. But big ships aren't just lucrative for toy companies. Driven partly by demand, but mostly by rising fuel costs, shipping companies like Maersk are building bigger ships to cut the cost of doing business.
The Triple-E is the biggest container ship ever (though still smaller than some oil tankers), and can carry four times the volume that ships did 20 years ago. In fact, it's so big that it will barely fit through the Suez Canal. Yet some economists think even that won't stop these mutant ships from growing to meet economies of scale. "The fact that the ship is bigger is going to relate to a lower cost of transport," says Dr. Jean-Paul Rodrigue, professor of geography at Hofstra University in New York.
In fact, bigger ships burn fuel so much more efficiently that a detour past Capetown—which will be necessary if ships get any bigger—will ultimately pay off. When new container ships outgrew the Panama Canal in 1985 (which may or may not get wider sometime soon), not even treacherous Cape Horn could deter them.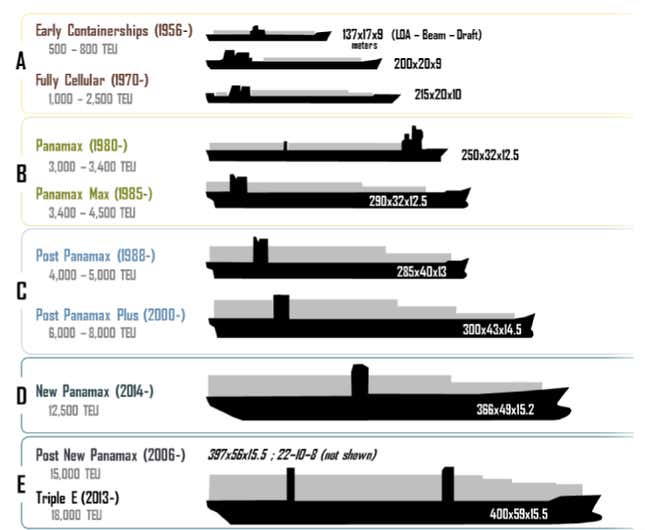 But don't expect to see the Triple-E in Houston, Long Beach, or any of the other new world ports; the big ships only run the "pendulum" route between Asia and Northern Europe. No ports in the Americas are big enough to handle the Triple-E, whose massive girth can disrupt other boats' business. Most ports in Europe aren't equipped to handle the ships, either. But the demand for cheaper goods is forcing some European ports to dredge their ports deeper and wider to accommodate them.
American demand also isn't enough to make the journey worthwhile. Rodrigue says that the available stops along the route inform the size of the ship. "People don't understand how much volume demand you need for those kind of ships," he says. Whereas, between Asia and Europe there are plenty of markets to earn money along the way: Hong Kong, Singapore, Mumbai, and Suez, to name a few. There's only the Pacific Ocean between Asia and the Americas.