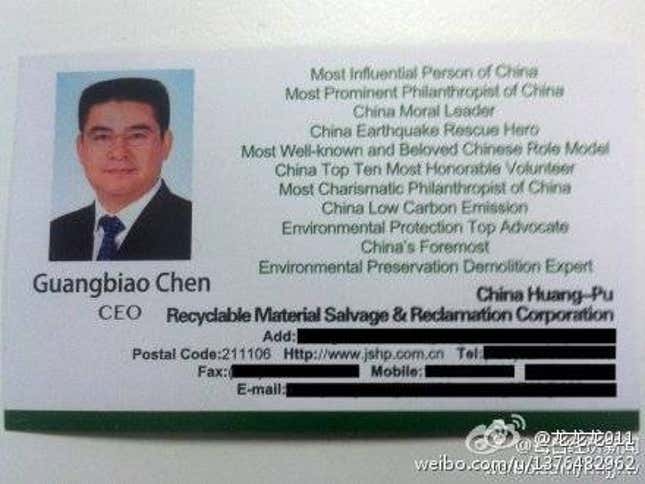 Eccentric Chinese millionaire Chen Guangbiao, the irrepressible publicity hound who says he wants to buy the New York Times (or, failing that, the Wall Street Journal) is earning international guffaws with this business card. In particular, Chen's claim to be "Most Charismatic Philanthropist of China," is generating particular ridicule on Chinese social media, reflecting citizens' broad mistrust of philanthropy, which has become synonymous with corruption and fraud.
One blogger (registration required)—among tens of thousands on Sina Weibo and other forums who chimed in about Chen's new card and the attention it is getting—contrasted him with the recently deceased Hong Kong entertainment mogul Run Run Shaw, who gave generously to hospitals and schools on the mainland. "If you compare Chen and Run Run, you'll see the difference between true charity and pseudo-charity. What Chen leaves to this world is just a bunch of noise and gimmick," the user said. Another blogger responded: "I'll give you another title: Most Shameless Person in China."
High-profile charity work doesn't have a great reputation in China, where as many as a third of registered charity groups don't meet international standards for transparency, according to a government report last year. China's Red Cross infamously misused donations for Sichuan earthquake victims in 2008, and recently Chinese media have questioned whether actor Li Yapeng is profiting from a fund (link in Chinese) for children with cleft palates.
Chinese media have also accused Chen of faking donations. In 2010, Chen claimed to have donated 1 million yuan (about $165,000) to China Foundation of Human Rights for relief work in Haiti, but reporters with the China Business Journal found that the organization didn't exist.
Thus, it's not a surprise that some say Chen—whose charity work includes personally rescuing earthquake victims, giving cash to villagers, and most recently, paying for reconstructive plastic surgery for burn victims—cares most about appearances. As we wrote, it wasn't until Chen became famous that his recycle waste business began to win lucrative government contracts. Perhaps Chen should just focus on one of the other titles on his card: "China's Foremost Environmental Preservation Demolition Expert."
Gang Yang contributed additional reporting.