Corporate Japan's relentless march into new territories is back.
Suntory Holdings, the 115-year-old, family-owned Japanese beverage distributor this morning struck a $16 billion deal to buy American whiskey maker, Beam Inc. Barring a rival bid from the likes of France's Pernod Ricard or Diageo, the two biggest drinks makers, Suntory will now add brands like Jim Beam and Maker's Mark bourbons, Canadian Club whiskey and Courvoisier cognac to a liquor cabinet that already includes a number of Japanese whiskies and Midori liqueur.
It's the biggest deal of 2014 so far, and the biggest purchase of an overseas asset by a Japanese company since Softbank bought American wireless carrier Sprint for $22 billion last summer.
Indeed, the rationale behind Suntory's purchase of Beam is arguably the same one that motivated Softbank to buy Sprint (and potentially soon bid for T-Mobile), and that has forced many other Japanese consumer companies—like brewer Kirin, which secured Australia's Lion Nathan for $3.3 billion in 2009—to look abroad.

Essentially, Japan is the maturest of mature markets, with a population that is not just aging rapidly, but also shrinking. "Japanese corporate managers are aware of this and recognize that the pursuit of top-line revenue growth must take place outside of Japan," a report from law firm Skadden said last year.
That being said, outbound Japanese mergers-and-acquisitions activity declined noticeably last year.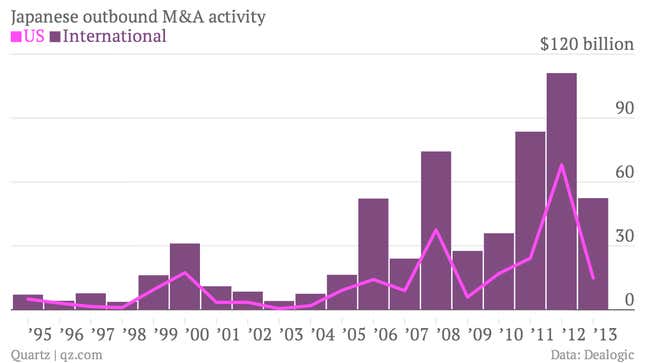 That set off some nervousness that the success of Abenomics—prime minister Shinzo Abe's economic stimulus plan, which has driven down the value of the yen and is beginning to stoke domestic demand—would dissuade Japanese corporates from bingeing on overseas acquisitions. Thankfully, for M&A bankers at least, Suntory's purchase of Beam suggests otherwise.