Children's clothing and shoes from several major international brands, including Adidas, Disney, Gap, Burberry and H&M, contain high levels of chemicals considered hazardous, according to a new Greenpeace report. It's the activist group's latest attempt to push the fashion industry to voluntarily cut down on the amount of chemicals used in making clothing.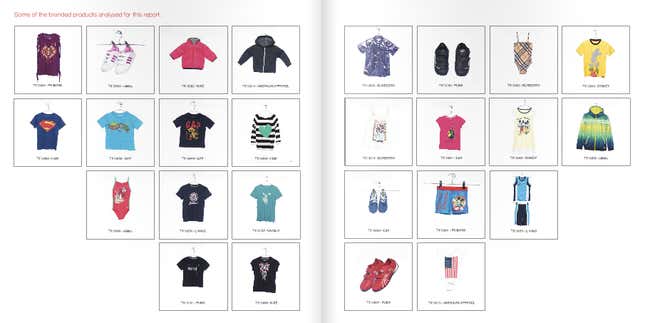 There's no one country or manufacturer responsible for the high chemical content of the clothing, Greenpeace said. Greenpeace purchased 82 items from authorized retailers in 25 countries, made in at least 12 different regions. Here's some of the chemicals they found:
Nonylphenol ethoxylates, chemicals found in detergents that the US Environmental Protection Agency and others have banned because of their concerns on hormonal function, in 61% of products, including high concentrations in clothing from C&A, Disney and American Apparel.
Phtalates, plastics-softeners which have been banned in children's toys because of concerns about toxicity and their impact on hormonal function, in 33 of 35 samples tested. A Primark t-shirt sold in Germany had the highest levels.
Organotins, fungicides whose use was banned by the European Commission and others, in three of five shoe samples, with the highest level in a Puma shoe.
Along with the report, Greenpeace released a Buzzfeed-style narrative about chemicals in children's clothes, capped by Twitter handles for the manufacturers named, and urged parents to get involved.  While governments have banned or regulated the use of some of the chemicals Greenpeace tested for in toy manufacture in earnest they are not regulated in the textile industry. 
The report follows a 2011 Greenpeace study of chemicals in adults clothing and is of the group's  "Detox" campaign, which has the textile industry has not widely embraced. Explains German chemical company consultancy Stepchange Innovations:
Fundamental chemical know-how and understanding is essential  for a wise decision making – know-how which is frequently missing… the representatives of the brands, quality and material managers or purchasing managers,  have seeked and received  expert advice by special advisors from their long grown network of contacts in the chemical industry. It is a classic case of lobbyism.
Perhaps the image of contaminated toddlers raincoats and pint-sized bathing suits will break that chain.