One of the byproducts of Colorado's recent decision to legalize weed has been a boom in the prices of stocks linked, however tenuously, to the marijuana industry.
A handful of smaller companies, listed on over-the-counter markets (where liquidity is thin and there are no real quality standards needed to secure a listing) and not on the more reputable NYSE or Nasdaq exchanges, have seen their share pries soar since the beginning of the year. And for no discernible reason other than the fact that marijuana is now on sale for legal recreational use in Colorado, and soon will be in Washington state.

That has pushed the market values of such companies to not insignificant levels. Medbox, the biggest, which sells automated vending machines with fingerprint readers that could be used to dispense pot, briefly crossed the $1 billion threshold last week, but has since retreated.

The sudden explosion of interest in weed stocks even prompted FINRA, Wall Street's self-regulatory organization, to last week warn investors about the potential for scams and frauds. It noted that some marijuana companies—though it didn't name them—had been employing well-known tricks used in stock scams, like frequently changing their names and business focus.
For instance, one unnamed company had promoted itself through sponsored links and spam email, and by issuing more than 30 press releases during the first half of 2013, all of which painted a rosy picture of its health, despite continued financial losses. Another unnamed "low-priced stock" now claiming to be in the medical marijuana business had changed its name four times in the past ten years, FINRA said, while yet another had recently switched from the coffee business to focus "on the rapidly emerging medical marijuana industries."
Possible fraud aside, what's indisputable is that marijuana stocks remain highly volatile—though in this sense they're much like all "penny stocks." The intraday performance of Medbox since the turn of the year illustrates this: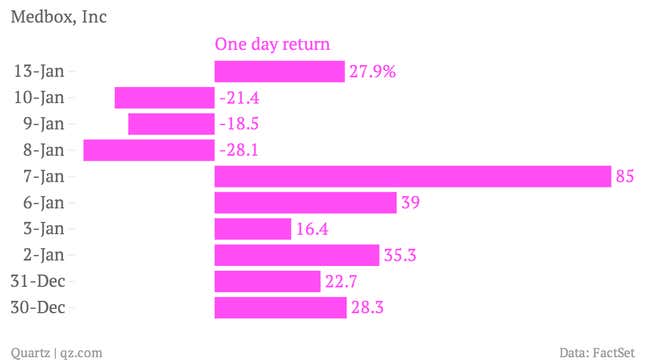 So, while you might no longer be fined or arrested for smoking pot in certain places, you can still burn a serious hole in your wallet by investing in it.