DETROIT, Michigan—Cars are king in the Motor City, especially during this week's North American International Auto Show. But a couple of automakers are also showing bicycles.
Amid the sea of SUVs and sedans sit less than a dozen two-wheelers, some of them placed in pick-up beds or atop a vehicle. The most prominent of them are the ebike by Smart.
Three of its electric bicycles are available this spring at US Mercedes-Benz dealers that also carry Smart cars. At $2,950, they're priced as the Mercedes of bikes too.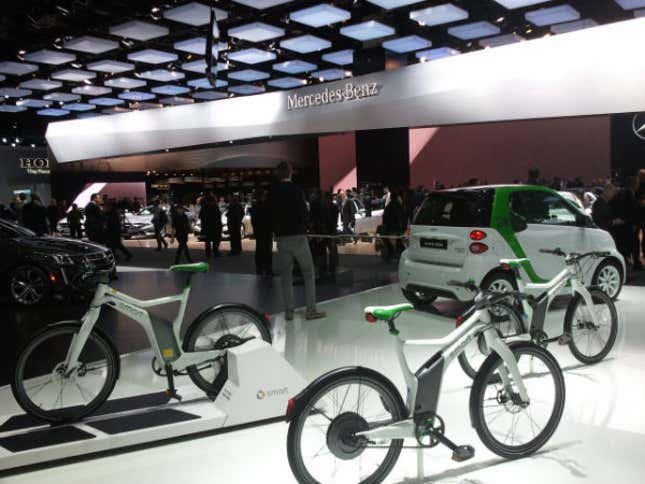 Built in partnership with German e-bike maker Grace, the bikes have been on sale in Europe since mid-2012. The bike technically is a hybrid, running on both electric and human pedal power.
The other bicycles show up at Lexus, where a white F Sport Road Bike rides the back of a GX460 SUV.  It's a pricey carbon filter frame, on sale in Japan for 1 million yen, or about $10,090. Only 100 of them were produced last year. A spokeswoman calls them a "concept" and said Lexus hopes to create and sell more bicycles in the future.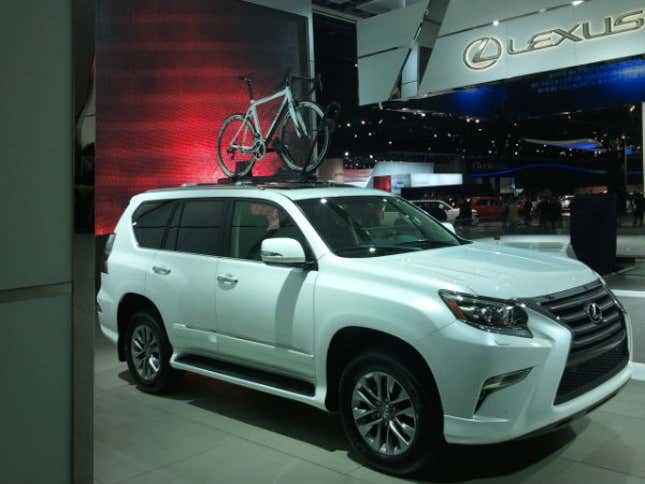 In Detroit, a handful of automakers are also using bicycles as fashion accessories. A gray Mazda5 has a white Trek on a rooftop rack, and the 2015 Chevy Colorado pickup sports a red and green Rockhoppers along with camping gear in back.
Despite being the birthplace of Ford Motor Co., General Motors and Chrysler, Detroit actually has a growing bicycle culture—although in January, the few bicyclists on the road could only be described as very, very brave.