China loves pork, consuming half the world's supply, and the period around the upcoming Chinese New Year has always been the busiest pork-eating season. But pig producers have gone a bit hog wild this year, and the resulting oversupply has sent peak-season prices crashing for the first time in a decade.
Pork prices in 24 Chinese provinces fell by 7.2% from late December to early January, and have continued to slip in the last week. The price of slaughtered hogs fell an additional 4% between Jan. 10 and Jan. 15 to 13.2 yuan ($2.18) per kg, according to the China Commodity Pricing Platform and the National Bureau of Statistics. The expansion of China's breeding industry in 2011 and 2012 caused the oversupply, Feng Yonghui, chief analyst at pig industry research group Soozhu, told Economic Information Daily (link in Chinese).
Only a few months ago, Beijing was nervously eyeing rising pork prices and worrying they could lead to a spike in inflation: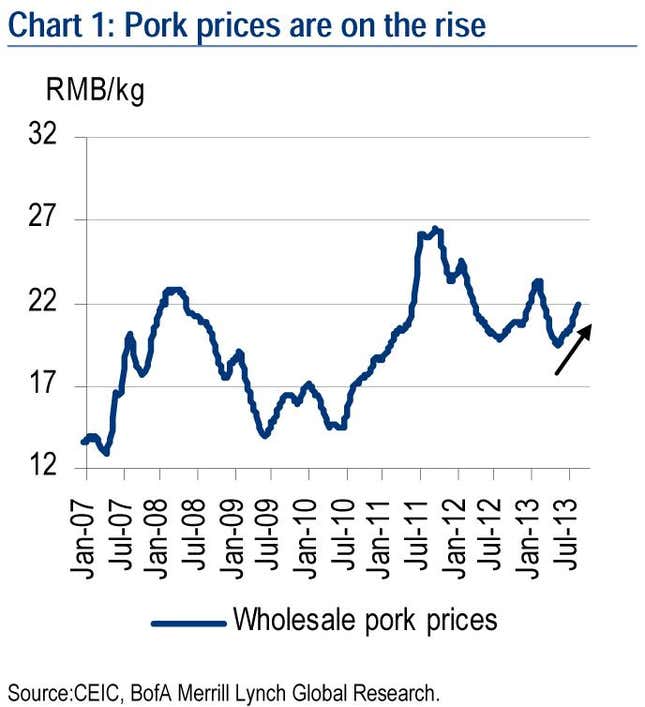 China is working on establishing a more stable pig supply chain to avoid these fluctuations. Shuanghui International, the world's biggest pork producer, has finalized its acquisition of US-based Smithfield Foods, and is planning a $5 billion IPO, in part to modernize its production. And China may soon be producing herds of pigs who look remarkably similar: The BBC reports that Chinese firm BGI is cloning pigs on an industrial scale, though its annual output of 500 pigs isn't nearly enough to account for the current supply glut.
The falling prices may be bad news for pig producers, but will be welcomed by Chinese consumers who pay some of the highest pork prices in the world.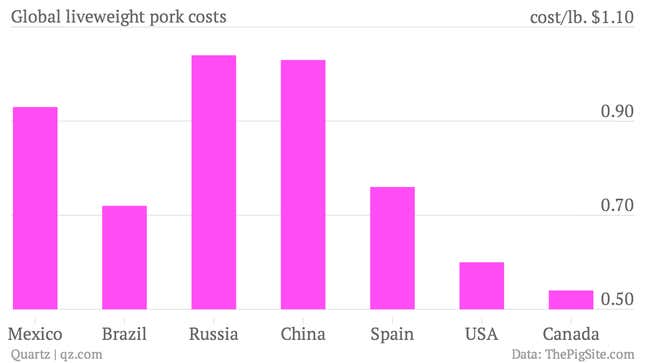 China also has a strategic pork reserve to soak up excess supply—which might be a prudent move if the worst predictions about a global epidemic of the Porcine Epidemic Diarrhea (paywall) virus prove to be accurate.
Additional reporting by  Jennifer Chiu.