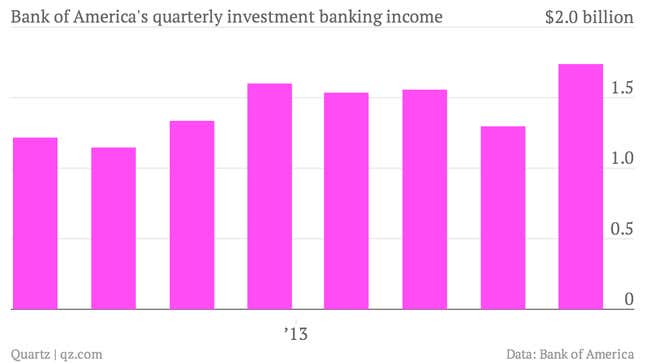 The numbers: Not bad. Bank of America beat expectations by a couple of cents recording profits of 29 cents a share, or $3.44 billion, versus expectations of roughly 27 cents. Lower litigation costs helped. Last year the bank posted a  considerably lower profit of $732 million, after factoring in a roughly $11 billion settlement with Fannie Mae.
The takeaway:  Legal issues still dog the bank. Indeed, litigation expenses were $2.3 billion, much higher than the $1.4 billion some analysts like Sanford C. Bernstein's John McDonald predicted. And the bank's real estate unit, including mortgage banking, incurred a loss of $1.06 billion. On a good note, the bank has shrunk its mountain of non-performing loans by 25% over the past year. But there are still $17.7 billion of such assets on its books.
What's interesting: After the death of Bank of America intern Moritz Erhardt was linked to overwork, the company has been attempting show a kinder side. BofA recommended weekends off for some of its interns and junior bankers–a model being followed by other firms. At any rate, the investment banking unit continues to drive profits at the firm, ringing up roughly $1.7 billion in income during the fourth quarter, an 8.6% increase.