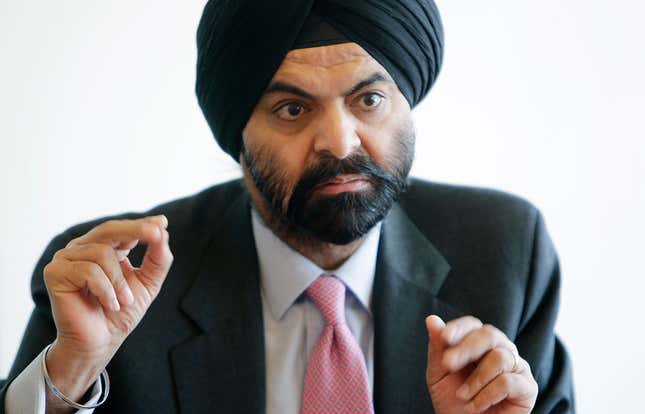 It's the question everyone asks a CEO: What does it take to get there?
The answer obviously varies but one thread seems increasingly shared among the recently ascended. They've all spent time abroad.
Take Citibank's newest chief executive, Michael Corbat, for instance. Corbat was formerly Citi's CEO of Europe, Middle East and Africa and also head of the bank's global emerging markets debt. Earlier this month, education and media company Pearson Plc announced John Fallon, who has also spent a considerable amount of time in emerging markets, will take over as CEO in January. MasterCard was early to the trend when it tapped Ajay Banga to be CEO in 2010. Banga has held leadership positions in the United States, Europe, Asia, the Middle East, and Africa.
As growth stagnates in the West, other markets beckon. According to a recent Foreign Policy article, Brazil, Russia, India and China (the BRICs) alone account for one fifth of global GDP and control about 43% of global foreign exchange reserves. "Over the next 15 years, the center of gravity of the urban world will move south and, even more decisively, east," said a McKinsey report. It only makes sense for leaders to follow suit.
So, what does life abroad teach you, whether that means venturing out of New York or New Delhi? Considered academically, maybe not much—some say countries are man-made constructions, mere lines on maps, and people are, fundamentally, the same everywhere. However, that perspective ignores the incredibly rich and complex effects that culture has not only upon an individual's economic, political, and social behavior but also upon corporate structure and national governance. Understanding markets requires context, which can only be gained on the ground.
Life abroad offers a succession of leadership lessons that place you outside of your comfort zone and into the shoes of those you might not have encountered otherwise. It enables you to expand your understanding of the world, to hone your listening skills, to push your inherent talent abilities and acquired skill sets, to question the status quo, and to leverage insightful comparisons across markets. These are all vital skills for any CEO, regardless of whether they sell wares overseas or not.
From my own experiences living in Singapore, London, California, New York, and throughout India, I have learned how to navigate any situation thrown my way—from heat reaching 120 degrees (Fahrenheit, the global CEO knows right away that's about 50 degrees Celsius) and its effects on one's daily routine to how various economic policies of each country affect our bottom line. I have learned to ask for help. I have learned the incredible business value of understanding a nation's history from various points of view. I have also experienced, firsthand, the bonding powers inherent in sharing a traditional meal, local drink, or national holiday with new friends, colleagues, and clients abroad— and have come to understand the value (beyond currency) this creates in a global organization.
Climbing the ladder has its value, time, and place. However, to those aspiring CEOs in the modern business world, I say, book your flights.