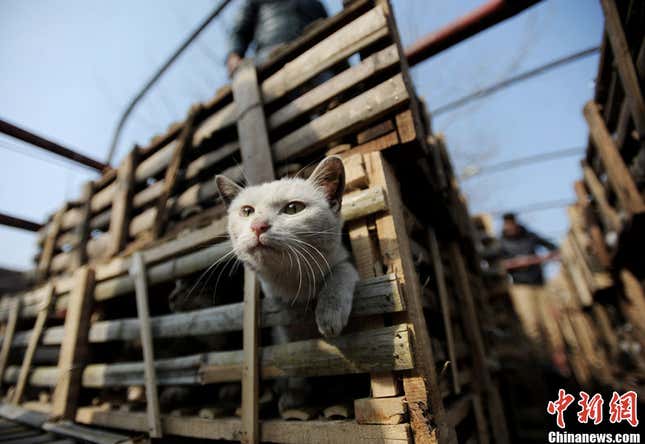 This week, about 30 activists in Wuhan, China blocked the path of a truck carrying over 2,800 cats destined for the south where feline cuisine is not uncommon. The cats were likely to be sold as meat at restaurants. Wuhan traffic police eventually intercepted the vehicle; the truck driver is being investigated for using a fake quarantine license to transport the cats. The city's Animal Protection Association Center said the cats would be rescued.
The act of civic activism is part of a small but budding animal rights movement in a country that's routinely criticized by international animal rights groups for supporting the trafficking of animals as well as the barbaric treatment of animals in zoos, bear bile farms, or just on the street. In November, animal rescue groups saved 600 cats on their way to an illegal buyer. Last year, Chinese internet users launched online campaigns against bear bile farming.
The shift may be in part because pet ownership is on the rise. Euromonitor predicts that China will continue to be one of the world's eight fastest growing pet care markets over the next four years. China has one of the lowest rates of pet ownership in the world, but the absolute number of pet cats, as well as dogs, there is still high. China is home to 51 million pet cats and dogs, just behind Brazil's 52 million, and the US, where families own almost 170 million cats and dogs.