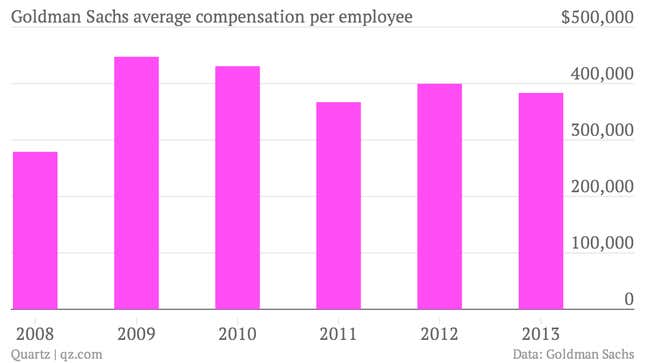 The numbers: Goldman Sachs' fourth-quarter results beat estimates but its bond-trading shop—long seen as Wall Street's best in class—is showing signs of real weakness, following an uncharacteristically poor third quarter. The bank posted a fourth-quarter profit of $2.33 billion, down 19% compared to last year.
The takeaway: Goldman's profit slowdown is largely due to its fixed-income, currencies and commodities trading division. Revenue fell 15% at the unit, compared to the prior year, as the firm saw a slowdown in bond and mortgage trading. "Macroeconomic concerns and uncertainty led to challenging market-making conditions and generally lower levels of activity," the bank said in its earnings release. Any sign of weakness in Wall Street's hyper-competitive world of trading could be a concern.
What's interesting: Unlike its peers, Goldman is likely to keep its commodities trading unit, which serves institutional investors and hedge funds. But the firm is exploring a possible sale of its metals warehousing unit, Metro International Trade Services. Goldman's metals warehousing business has attracted unwanted attention in recent months. Meanwhile, Goldman reduced compensation and benefits — its largest expense — to $2.2 billion in the fourth quarter, down 8% from the third period. (It was up 11% compared to the fourth quarter of 2012.) Average pay per employee topped $383,000. Of course, that's just an average, which is likely skewed by a few extremely highly paid individuals. We don't have a figure for median pay, which might give a better sense of what a regular joe makes at Goldman.