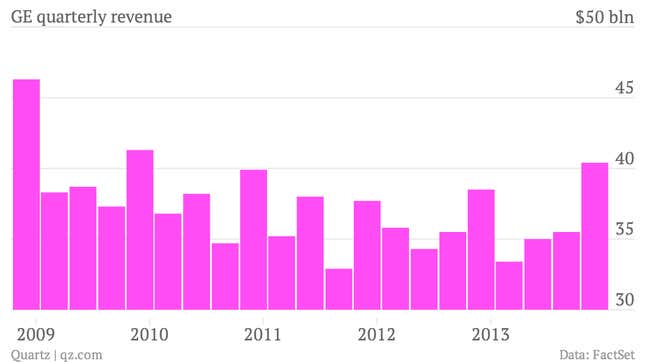 The numbers: Pretty good. GE's Q4 2013 profit rose by 5% to $4.2 billion, on revenue of $40.4 billion, up 3% from last year. Shares have edged higher in pre-market trading.
The takeaway: The historic American conglomerate has been trying to return to its industrial roots—and, evidently, it's paying off. Industrial segment profits were the standout, rising 12% to $5.5 billion. Six of its seven industrial segments had positive earnings growth, and its order backlog for equipment and services jumped to $244 billion—a new record. This strategy will see it spin off its finance business, GE Capital, which has weighed down its share price, later this year.
What's interesting: Although GE's Q4 profits were all about the past, its earnings announcement hinted that could soon change. Recent investments in technologies like big data and 3D printing are beginning to bear fruit. The company released 14 new industrial internet technology products during the quarter, which it says will help the likes of airlines, energy companies, and hospitals improve productivity and reduce emissions.