Chinese tourism overseas will double in the next six years to 200 million people a year, according to a recent report from analysts at CLSA, and a tiny US military outpost 900 miles north of the equator in the Western Pacific could be one of the biggest beneficiaries.
The hilly 200-square-mile island of Guam, population about 160,000, could see 50% growth in Chinese tourists, analysts say, the most of any destination.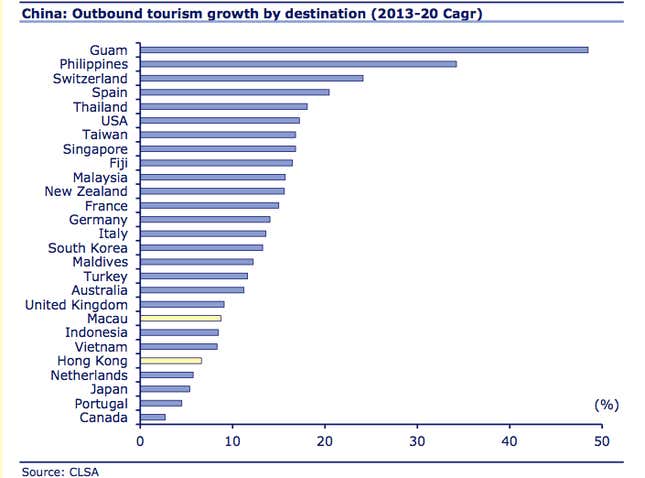 In ultimate numbers, that's still not huge: 21,000 Chinese tourists traveled to Guam in 2013, compared to over 3 million Chinese tourists who went to Thailand, the most popular foreign destination. But the growth in Chinese tourists to Guam has already skyrocketed from 1,000 in 2007, and Guam businesses are lobbying the US Congress to pass a visa-waiver program (paywall) for Chinese citizens that could make that growth even faster.
Guam's proximity to the rest of Asia (it's a three to five hour flight from several major cities) has already contributed to a boom in tourism, mostly from Japan, South Korea and Taiwan, that has transformed the island's economy. The US military base was reliant on defense spending for decades, but tourism now supplies about 60% of Guam's revenues.
Taiwan's "Hello Kitty" airline, Eva Air, started regular flights to Guam from Taipei in 2011, and nearly 1 million Japanese vacationers come every year to enjoy the island's mix of white sand beaches, coral reef and air conditioned duty-free shopping malls.
Guam's military history might prove as much of a draw for the Chinese, who are clashing with Japan and other Asian neighbors over the rights to islands and territory in the South China Sea. In July, Guam celebrates its liberation from the Japanese, who landed in 1941 and were driven from the island by the US in 1944, with a month of parades, festivals and the crowning of a "Liberation Queen."