The World Economic Forum Annual Meeting has is now in full swing in Davos, Switzerland. Quartz has already published an interactive tool to explore the attendees and taken a look at gender balance of participants. Here are some other thing we found while scouring the list.
More CEOs
The number of expected participants listed as a "chief executive" is up this year to 734 from 680 last year. Multinational CEOs include Pierre Beaudoin, CEO of Bombardier; Andrew N. Liveris, CEO of Dow Chemical; and Indra Nooyi, CEO of PepsiCo. Heads of newer companies at Davos include Tony Fadell of Nest Labs, Brian O'Kelley of AppNexus, and Brian Chesky of Airbnb. However, not all "chief executives" are their company's top official. For example, Neil M. Ashe is listed as the president and chief executive officer of Global eCommerce for Wal-Mart.
Goldman leads the financiers
There are 350 bankers, insurers and investors scheduled to appear at Davos this year including Jamie Dimon, CEO of JPMorgan Chase; Deutsche Bank co-CEOs Anshu Jain and Juegen Fitschen and Goldman Sachs's CEO, Lloyd Blankfein, leading the meeting's largest finance delegation.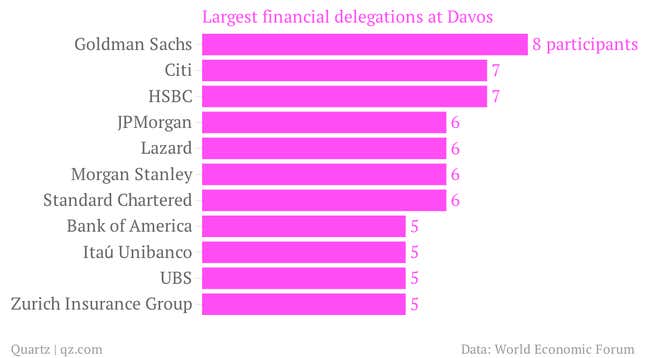 A Western bias continues
More than half of the 2,633 scheduled attendees come from the US, UK, Germany, India or Switzerland—the only countries with over 100 participants.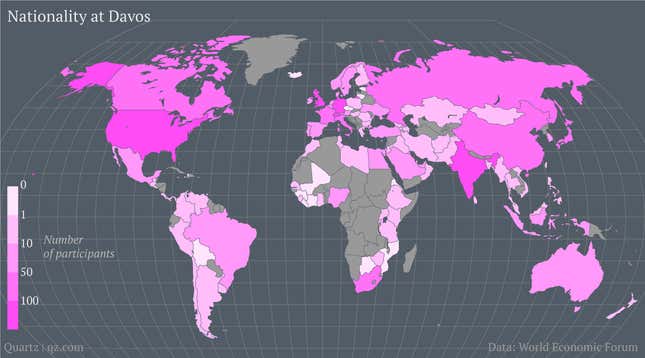 Very few participants are scheduled to come from South America, Oceania and Africa.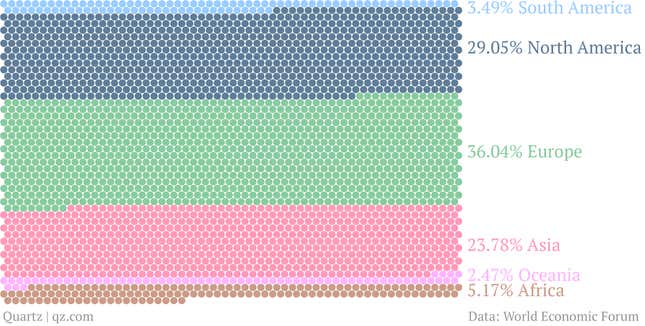 More Pols
Twenty members of the US government are scheduled to attend the event, including 13 members of Congress, the US trade representative and the mayor of Atlanta, Georgia. Switzerland is slated to have just as many members of their government at Davos.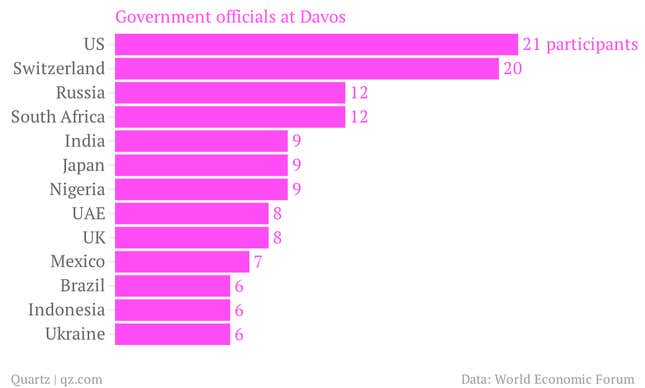 Fourty-eight prime ministers and presidents are expected to attend, up from 37 last year. They come from 46 countries.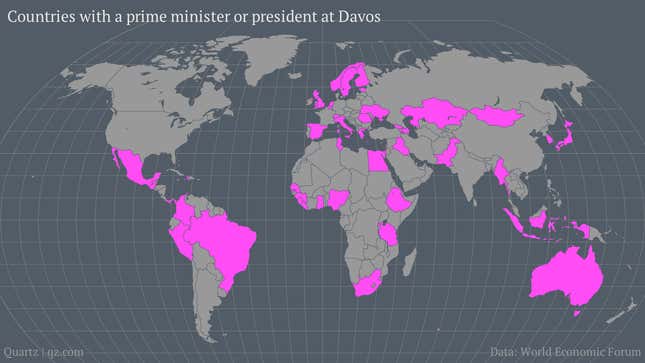 There are also representatives from 20 central banks: