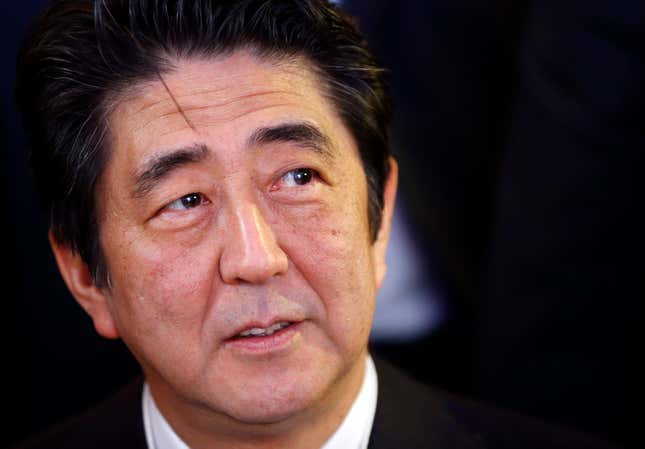 Japanese prime minister Shinzo Abe isn't overly reassuring about the prospects for avoiding a military confrontation between his country and China. Speaking on the sidelines of the World Economic Forum meeting in Davos, Abe acknowledged increasing tensions over issues including military spending and their territorial dispute over islands in the East China Sea. And he said he didn't have a plan for calming things down.
"Unfortunately with China we don't have a clearly explicit roadmap," Abe told a group of journalists. He cited China's broad defense buildup and muscle flexing in the South China Sea as aggravating factors.
Abe also acknowledged the risks of unexpected triggers for conflict in the tense, militarized situation. "There may be some conflict or dispute arising out of the blue or on an ad hoc level or inadvertently," Abe said. "We don't want inadvertent conflict arising out of these two countries and we want [a] military-force-level communications channel fully established."
That's a risk we remain concerned about—that a conflict could arise from unpredictable errors of judgment by the very-fallible individuals on the front lines. As Quartz's Steve LeVine recently wrote:
The standoff in the East and South China seas is one of those extraordinary circumstances that fall outside the boundaries of normal analysis, in which the most salient factor may be the danger of an accident.
Looking back to the spark that ignited World War I, LeVine said the risk of conflict between China and Japan falls under a geopolitical analysis framework he calls the Rule of Miscalculation.
In his comments at Davos today, Abe cited a different parallel to World I, the fact that Germany and the UK—like China and Japan today—had a strong trading relationship prior to the outbreak of war. "We need to really have an open dialogue, have an open exchange of views with China," Abe said. He didn't say how and when that might start.