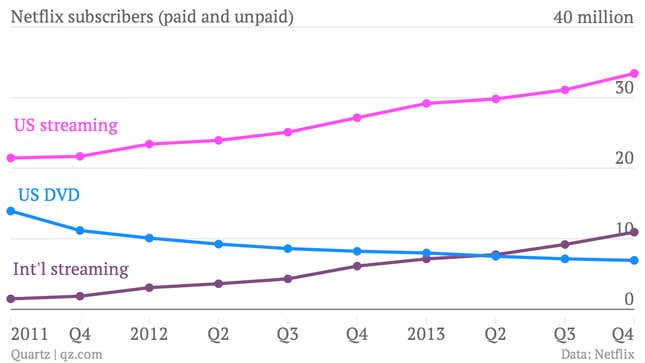 The numbers: Netflix reported third quarter net income of $48 million, on revenue of $1.18 billion. It added 2.33 million paying customers in the US, higher than analyst forecasts for the addition of around 2 million customers. It also added 1.7 million international subscribers, its best quarter in offshore markets for a year. Shares are up about 14% in after-hours trading.
The takeaway: "We plan later this year to embark on a substantial European expansion," Netflix said without mentioning which countries. Germany and France are both strongly rumored to be next.
What's interesting: Where do we start? Netflix addressed rumored pricing changes, saying it is in "no rush to implement such new member plans" and "still researching the best way to proceed." Also, it said existing members would get "generous grandfathering" of their existing plans and prices. The video streaming company also addressed recent changes to net neutrality legislation, warning it would "vigorously protest" a "draconian scenario" where it was forced to pay directly for bandwidth is users consume.