"If I knew it was the end, I would start smoking immediately," says Christina Applegate's character to her friend, played by Linda Cardellini, in the Netflix series Dead To Me. 
"Oh my god, yes. Immediately," says Cardellini. "Smoking is the greatest thing that slowly kills you."
Applegate, with a sigh: "It is the greatest."
At least some of the 1.1 billion people worldwide who smoke cigarettes would agree. But, sigh—likely because smoking slowly kills you—cigarettes are on the way out. The leading cause of preventable disease, disability, and death in the US, cigarette smoking here has hit an all-time low, with just 14% of adults lighting up—as opposed to 42% in the Mad Men heyday of 1965.
That's scary news for Big Tobacco. The US, after all, is the largest market for the $785 billion industry. So instead of continuing to hammer away on cigarettes—which are undeniably killing their enthusiasts—tobacco and technology have combined forces to create an entirely new category, one that doesn't involve pesky old fire, five-minute outdoor breaks, or socially unacceptable secondhand smoke. No, these nicotine delivery systems are fast, USB-charged, nearly odorless, sometimes even app-enabled, and supposedly safer than cigarettes. Welcome to vaping: 21st-century, late-capitalist smoking you can (again) engage in at your desk. And guess what? Teenagers—who really were not into cigarettes—love it!
Vaping represents Big Tobacco's Great White Hope, a $28 billion lifeline. Let cigarettes die their smelly and unsightly death, say the industry's most powerful executives. We can replace them.

HOW IT WORKS 
What is vaping?
One of vaping's many boons is its name. Vapor conjures images of, well, nothing. It sounds clean, even hydrating, like the steam that kisses one's skin during a fancy facial. But the "vapor" of vaping is actually aerosolized nicotine.
"A vapor is really a gas. An aerosol is particles suspended in a gas." says Neal Benowitz, a professor at the University of California San Francisco who studies the pharmacology of nicotine and addiction. "I call it vaping; others do as well. But strictly speaking, it's not scientifically what you're doing."
Strictly speaking, what you're doing is sucking on a device that houses wicks saturated with liquid propylene glycol and glycerine—carrier liquids that contain nicotine and flavorants in different concentrations. This is also called e-juice. Your inhalation, or sometimes the push of a button, activates a battery that heats the liquid-saturated wicks, often via metal coils. The heat creates particles of propylene glycol and glycerine that are similar to tobacco-smoke particles, but without any combustion.
Another class of e-cigarettes—sometimes called "heated tobacco products" (HTP) or "heat-not-burn" devices—use tobacco in place of e-juice, but still create an aerosol of nicotine and flavorants to be inhaled by the user. If you live in the US, you're likely to hear a lot more about these soon, as Philip Morris International is piloting its version, called IQOS, in Georgia this month.

Cigarettes are dying—but they're not dead yet
None of this is to say that cigarettes have already vaporized. In 2017 they accounted for an estimated 95% of the $785 billion global nicotine market (pdf). But the share of so-called "reduced-risk products" or "electronic nicotine delivery systems," which earn the foreboding abbreviation ENDS, and include liquid- and tobacco-heating e-cigarettes and devices, is rising.
In the UK, the government has touted vaping as a safe method for quitting cigarettes, with Public Health England publishing reports about its relative safety, and airing commercials with doctors in lab coats smearing the tar that results from cigarette smoke across a white desk. There, a 2017 survey found that some 5.5% of adults use e-cigarettes, compared with 15.1% who smoke cigarettes. According to estimates from Euromonitor, between 2013 and 2015 sales of UK e-vapor products nearly tripled, from $350 million to $902 million. In the same period, cigarette sales flatlined—falling by about $49 million, to $20.4 billion.
While it's true that sales of cigarettes still dwarf e-cigarettes, similar trends are underway in the biggest markets for those alternatives. In Japan—the second-largest cigarette market in the world, with 2018 sales worth an estimated $26.7 billion—cigarette revenues fell by an estimated 26.3% between 2015 and 2018. At the same time, sales of HTPs grew from an estimated $139.5 million to $7.7 billion.
In Sweden, while cigarette sales grew by about 8% between 2013 and 2018, sales of e-vapor products increased twentyfold. And in South Korea, where cigarette sales grew just 1.5% in the same five-year period, HTP sales, now worth an estimated $1.7 billion, have skyrocketed since the IQOS was introduced in 2017.
And in the US—where nicotine is worth an estimated $100 billion in retail sales—cigarettes are also on a downward slide, but e-cigarettes are already making up for the losses. By 2025, analysts at Cowen expect e-cigarettes to generate $26.8 billion in retail sales, compared with an estimated $6.6 billion in 2018.
Nearly all of e-cigarettes' US growth can be attributed to a single company: Juul.

THE PLAYERS CLUB
Here are the biggest players in the vaping game. 
Juul Labs
Juul Labs is the San Francisco-based Cinderella story of the e-cig world—a startup founded in 2007 by two Stanford grads, James Monsees and Adam Bowen, who met in the school's product design graduate program. The co-founders say they thought they could solve smoking, or, as Bowen told Fast Company, "create a new ritual to replace the old one."
The "new ritual" that Juul took to market in 2015 is more analogous to an iPhone than a cigarette: sleek, USB-charged, and so easy to use that a person might puff on it several times in an hour without noticing. With JuulPods high-nicotine e-juice flavors including mint, mango, and creme (formerly known as "creme brulée"), Juul has managed to corner an estimated 48% of the total US e-cigarette market.
Big Tobacco took note of Juul's ascent: In December 2018, Juul closed a deal with Altria, the parent company of Philip Morris USA, handing over 35% of the company for $12.8 billion in a deal that valued Juul at $38 billion. On an earnings call soon after, executives revealed that Juul's 2018 revenue exceeded $1 billion. In a letter to investors in May, Juul reported that sales in the first quarter of 2019 were already $528 million. That's a lot of $35 devices and $5-6 pods.
This wild success has made Juul a cultural phenomenon—not to mention shorthand for the category as a whole, like Uber—and has also put it in the crosshairs of US regulators. In July, a congressional subcommittee called Juul executives to testify about the company's attempts to sell to kids through school and summer camp programs and the Federal Trade Commission is currently investigating whether Juul used social-media influencers and other marketing tactics to appeal to minors. A handful of reports of people having seizures that cited Juul devices prompted an investigation by the US Food and Drug Administration (FDA), which couldn't formally verify whether the devices involved in those reports were Juuls, in part because some people use the brand's name to refer to any type of vaping.
Juul is also wildly popular among a demographic that wasn't previously into smoking: US teens. That particular customer base makes the company a poster child for an industry-wide conundrum: Is it better to get cigarette smokers into potentially less harmful alternatives, or to prevent a new generation from getting addicted to nicotine altogether?
---
Altria (MO)
Altria owns Philip Morris USA—the biggest US cigarette company, which makes brands that include Marlboro, Parliament, and Virginia Slims—so it's no surprise that the smoking slowdown has hit the company hard. (Altria also owns Nat Sherman Cigarettes, which holds the distinction of an unofficial endorsement from Gwyneth Paltrow, who claims to smoke about six per year.) In July, Altria's shares slid after the company's executives announced that cigarette sales—worth some $5.8 billion in revenue to Altria in the second quarter—were slowing faster than they had originally forecast.
But Marlboro's maker, which estimates it sold half of all US cigarettes in 2018, is no dummy: It's diversifying. Its December purchase of that 35% stake in Juul is its biggest investment ever, dwarfing the $1.8 billion it put into Canadian cannabis firm Cronos last year. That same month, Altria announced it would cease production of its own vape products, Green Smoke and MarkTen, making a clear commitment to Juul as its e-vapor brand. (Who can blame them? In one four-week period in November, Nielsen-tracked sales channels found that Juul captured more than 75% of the US e-cigarette market, to Altria's 4%.)
And Altria has another product on the horizon for high-tech US smokers: the IQOS. This device contains an internal metal blade that heats paper-wrapped sticks of tobacco resembling half-length cigarettes to create an inhalable aerosol that carries the taste, aroma, and nicotine tobacco smokers crave. Because it uses tobacco and not e-juice, and because it doesn't get hot enough to actually burn the tobacco, the IQOS falls into a category of vaping products known in the industry as "heated tobacco products" or "heated tobacco units."
The IQOS originated with Philip Morris International (more on this below) and in April, the FDA gave Altria the green light to sell the product in the US. This month, Philip Morris USA will start testing the US market in Atlanta, Georgia, with its own store at the upscale Lenox Hill mall, where it joins brands like Prada and Peloton. IQOS devices will also go on sale in about 500 Atlanta stores, including Circle K, QuikTrip, RaceTrac, and Speedway. An Altria spokesperson wouldn't share specific pricing, but said IQOS devices bundled with "HeatStick" refills would be "priced to incent trial" and that HeatSticks would be priced to compete with cigarettes.
---
Philip Morris International (PM)
Today, PMI is the world's biggest tobacco company, but in 2007 it was just Philip Morris's international division. Just kidding, it was a giant then too, having sold some 831 billion cigarettes the previous year. In 2008, Altria spun off PMI to "unleash more earnings potential by hiving off the overseas operation into an independent entity," as cigarette sales flagged and litigation proliferated in the US.
In an Aug. 20 interview with Quartz, PMI chief operating officer Jacek Olcak compared the relationship between PMI and Altria to former spouses. "They are a very serious partner for me," he said. "When it comes to IQOS, we work very closely together." One week later, the companies confirmed rumors that they were in talks about getting back together. As Wells Fargo tobacco analyst Bonnie Herzog pointed out, Altria's 35% stake in Juul makes it an attractive partner for PMI, and a merged $210 billion tobacco behemoth would provide Juul access to PMI's international markets.
For its part, PMI—which controlled more than one-quarter of the global cigarette market and sold $25.5 billion of combustible products in 2018—has claimed a new mission: to "unsmoke the world." With e-vapor, of course.
The company piloted its IQOS device in Italy and Japan beginning in 2014. Today, the device is sold in more than 40 countries and helped PMI make about $4.1 billion on what it calls "reduced risk products" last year. The company estimated that IQOS had 9.6 million users by the year's end, and Olcak was particularly proud of the product's success in Japan, where he says IQOS has captured 17% of the entire tobacco market. As noted, as of April IQOS has FDA clearance for sales in the US, where Altria will be in charge of distribution.
---
British American Tobacco (BATS) 
The company behind cigarette brands including Lucky Strike and Dunhill—and as of a 2017 acquisition—Camel, Newport, and American Spirit, is also in the business of what it calls "potentially reduced risk products," including vapor and heated tobacco. For the six months ended in June 2019 (pdf), those categories generated sales of about £189 million ($232 million) and £313 million ($381 million), respectively. Combined, vapor and heated tobacco made up about 4% of BATS's £12.2 billion in total revenue during that period. Both categories are growing while cigarette sales slow.
As of the first half of 2018, BATS was the leading seller of vape products outside the US and controlled a 41% share of the UK market, according to Cowen. Among its vape brands sold in 20 markets: Vuse, which offers a Juul-ish device called an Alto that's sold in the US, and Vype, which makes products called ePens that are popular in Europe, which is BATS's biggest market. The company also makes a heated tobacco product called Glo that's available in 15 markets and is seeing particularly strong growth in Japan.
---
Imperial Brands (IMB)
With its Blu e-cigarette, British tobacco company Imperial Brands controlled 20% of US e-cig sales in 2016, but it has seen a significant sales slowdown (pdf) and hit a five-year low as Juul gobbled up market share. Last year, the company launched Myblu, a rapid-charging, refillable vape that can be filled with more than 15 different flavors and four strengths of nicotine. In May, Imperial said it was spending £94 million ($115.4 million) on awareness campaigns for its Blu products. In the heated tobacco realm, Imperial has also launched a pilot program for a product called Pulze, in Fukuoka, Japan.
Fun fact: Fontem, an Imperial subsidiary, now owns what's considered to be the original US patent for the modern electronic cigarette, filed in 2003 by Chinese pharmacist and inventor Hon Lik.
---
NJOY 
Tech billionaires Peter Thiel and Sean Parker were early investors in this private New York- and Arizona-based company. NJOY came back from a 2016 bankruptcy filing to raise about $130 million in a May funding round that valued it at about $2 billion. (That fell short of goals, but still.) NJOY is coming for Juul's US business with an aggressive price strategy. Last year, it ran a promotion selling its Ace vaping device—which can be filled with nicotine pods in flavors like watermelon and blueberry—for just 99 cents in stores, compared to $7.99 online, about 25% of the price of a Juul pod. It seems to be working out so far. A recent Cowen report estimated that NJOY accounts for about 11% of US e-cig sales and that its year-over-year revenues increased a whopping 1,141% for the four-week period ended Aug.10, 2019.
---
Japan Tobacco (JT) 
Tokyo-based Japan Tobacco, of which the country's government owns 37%, controls 60% of the local cigarette market. (Its leading brand is Winston). Like other big tobacco companies, it's betting big on alternatives as cigarette sales fall. Devices that heat e-juice are outlawed in Japan, so heated tobacco products are where there's vapor money to be made. So far, PMI has dominated that market with IQOS, and Nomura's analysts estimate that JT's heated tobacco product, Ploom, controls just 8% of the market, behind IQOS and BATS' Glo. Part of the reason may be a weaker taste. Reuters' Taiga Uranaka writes that "unlike IQOS and Glo, Ploom Tech does not directly heat tobacco rolls. Instead, it generates vapor that goes through a tobacco-packed capsule, emitting far less smell but, according to users, less potent than rival products."
In 2015, JT shored up its international vapor business when it acquired Logic, an e-cigarette company that was then the third-largest in the US, but has since slid in market share, also thanks to Juul.
---
Turning Point Brands (TPB) 
A post-cigarette tobacco company, this Kentucky-based operator sells rolling papers, chewing tobacco, pipe tobacco, and of course, vapes. It sells devices and liquids under the brands Vapor Shark, VaporBeast, and VaporFi and also has a wholesale business, Vapor Supply, and more than 30 Vapor Shark franchise stores. Vaping accounted for about $131 million, or 40% of TPB's total revenue in 2018. As of November 2018, TPB is also onto CBD, which the company now classifies in its earnings reports alongside vaporizers and e-juice as "NewGen" products.

Juul Labs
The darlings behind vaping's darling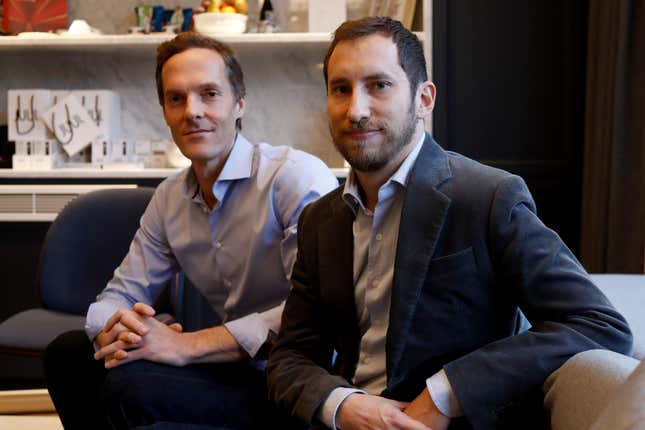 Founders: Adam Bowen (chief technology officer) and James Monsees (chief product officer)
Age: 43 and 39
Wealth: an estimated $1.1 billion each
Origin story: Bowen and Monsees, who both studied physics in college (Bowen at Pomona in California and Monsees at Kenyon in Ohio) met at Stanford University, where they were studying product design as graduate students. The friends, both smokers, paired up for their thesis project, which they presented in 2004. As Monsees says when introducing their prototype, an e-cigarette they called the Ploom, "Adam and I were interested in design for social change." (A video of that presentation can be watched on Juul's website.)
Bowen and Monsees said they wanted to help smokers "move past cigarettes" with a "whole new experience that retains the positive aspect of smoking, like the ritual and everything, but makes it as healthy and socially acceptable as possible."
After graduation, the pair launched two products, Ploom and Pax, for vaporizing loose leaf tobacco and cannabis, respectively. In 2015, they began focusing on a device for vaporizing liquid nicotine, or e-juice, and so was born the Juul. (Around this time, they also sold the Ploom brand to Japan Tobacco). In 2017, Juul Labs spun off Pax to become a separate company and hired Kevin Burns of Chobani to be CEO of Juul. In 2018—the same year that Juul accounted for some 66% of Nielsen-tracked e-cigarette sales in the US—they sold a 35% stake in the company to Altria. Today, as youth vaping in the US reaches what the FDA has called "epidemic" proportions, Monsees says that Juul "never wanted any non-nicotine users, and certainly not anyone underage."

THE BIG QUESTION
Are e-cigarettes really less unhealthy than cigarettes?
Benowitz at the University of California is satisfied that they are—but, he concedes, a cigarette sets a pretty low bar. "There's hardly anything that's as harmful as a cigarette, in terms of the number and the concentrations of different toxins in cigarette smoke," he says. "There's no way that an e-cigarette is going to be as toxic."
That said, e-cigarettes contain a cacophony of chemicals. One common ingredient, diacetyl, imparts a buttery flavor to e-juice, but has also been known to impart a condition called bronchiolitis obliterans. This incurable lung-obstructing disease got its nickname, "popcorn lung," after workers in a microwave-popcorn manufacturing plant where diacetyl was used for flavor developed the condition. Benowitz says that most "legitimate" e-juice manufacturers are avoiding diacetyl, and that toxic flavorants like it could be regulated for safety.
E-cigarettes also often contain metal coils, which could impart particles of contaminants such as cadmium, chromium, or lead when heated. And some common carrier liquids, such as propylene glycol and glycerin, can also become toxic when thermally degraded—producing, for example, formaldehyde. Benowitz, who is currently studying the distinction between low- and high-voltage e-cigarettes to test his hypothesis that the higher-voltage variety are more hazardous, does note that these toxins, or "thermal degradation products," are much lower with e-cigarettes than with regular smoking.
And these are just a few of the many potential contaminants. As vaping proliferates, so do sources of e-juice—and cannabis oil for vaping—with sketchy origins and unknown contents. As of Sept. 6, 450 cases of vaping-related respiratory illnesses had been reported across 33 US states, and health officials have in the past two months announced what are believed to be five vaping-related fatalities. State and federal officials attribute at least some of those to an oil derived from vitamin E that was used in vaped cannabis products, but a report by the Centers for Disease Control and Prevention (CDC) noted that "no consistent e-cigarette product, substance, or additive has been identified in all cases, nor has any one product or substance been conclusively linked to pulmonary disease in patients." The CDC has advised that people not use e-cigarette products while the investigation is ongoing. New York state's health commissioner issued similar guidance.
Oh yes, nicotine
In addition to those many chemicals, the operative ingredient in most e-cigarettes—their raison d'etre—is the same as in old-fashioned cigarettes: nicotine. And although nicotine, a stimulant that occurs naturally in tobacco plants, doesn't directly cause most of the harm associated with cigarettes, addiction to nicotine is what keeps smokers coming back. It's powerful stuff.
Nicotine is known to have cardiovascular effects—narrowing the blood vessels and increasing heart rate and blood pressure. (Fun fact: It was used as an insecticide as early as the 17th century, but has since been left behind in favor of "more potent pesticides that are less harmful to mammals." Ouch.)
It also gets into our heads. Inhaling nicotine sends it from the lungs to the blood to the brain within seconds. Once there, it has a variety of effects—many of them pleasurable, whether that's calming an anxiety-ridden smoker or waking up a drowsy one. Nicotine triggers the release of dopamine, which can help regulate our mood and behavior, and frankly, feels good. This all contributes to nicotine's highly addictive and risky nature—and even more so for people whose brains are still developing.
Exposure to nicotine during adolescence, which researchers describe as "an age of explosive development of both emotional and cognitive sides of the mind," increases the risk of developing memory and attention impairment, as well as a variety of mental and behavioral problems—major depressive disorder, agoraphobia, and panic disorder among them. It's also easier for adolescent brains to form habits than older brains.
So perhaps it shouldn't surprise us that the e-cigarette (yes, that one) that has led to vape detectors in school bathrooms also contains among the highest levels of nicotine.

Rhymes with cool
The e-juice contained in a Juul pod, at 5% nicotine by weight, is among the strongest on the market. And yet, because it's formulated with benzoic acid to lower the pH, "it's easier to inhale, especially for a non-smoker," says Benowitz.
And therein lies the problem with Juul. It's wildly popular with a population that wasn't smoking before: kids. In 2018, 21% of US high schoolers reported using e-cigarettes in the past 30 days, up from 1.5% in 2011, according to data from the CDC. Much of that increase since 2016 has been thanks to Juul's popularity.
"I definitely consider this to be Big Tobacco 2.0," says Bonnie Halpern-Felsher, a developmental psychologist and professor of pediatrics at Stanford University, who is the founder of the Tobacco Prevention Toolkit. "Kids weren't smoking in this generation. They think cigarettes are gross. It's not that e-cigarettes stopped us from having a generation of people addicted to cigarettes. They weren't going there. We would have a generation maybe using marijuana or something else, but certainly not addicted to any tobacco product. And it's because of e-cigarettes that that's happening."
Juul would insist that this is all unintentional, and that their market is cigarette smokers. "Don't vape," CEO Kevin Burns said on CBS This Morning in August. "Don't use Juul. Don't start using nicotine if you don't have a pre-existing relationship with nicotine. Don't use the product. You are not our target consumer."
Perhaps not anymore, but a Stanford study (pdf) of the company's advertising practices in 2015 and early 2016 shows a pop-colored campaign unfolding at music festivals, hip hotels, and parties—not to mention on Twitter and Instagram—with women in short shorts and red lipstick giving out free samples and fresh-faced models smiling on ads with the phrase "smoking evolved."
Juul has since shut down its social media accounts—part of its apparent effort to reduce the appeal to kids—but the company doesn't need them anymore. For a generation primed to love devices, Juul has basically created a nicotine-loaded iPhone.
In a 2018 tour de force about the rise of Juul among teens, the New Yorker's Jia Tolentino pointed out that "Juuling and scrolling through Instagram offer strikingly similar forms of contemporary pleasure. Both provide stimulus when you're tired and fidgety, and both tend to become mindless tics that fit neatly into rapidly diminishing amounts of free time. (You can take two Juul hits and double-tap a bunch of pics in about 10 seconds. You need an inefficient five minutes to burn a paper tube of tar and leaves into ash.)"
"It's cool, it's sleek, it's stealth," says Halpern-Felsher, who specializes in adolescents. "Young people in particular are using them just like when we pick up our phone constantly … 15 or 100 times a day without even realizing it."
When I ask Halpern-Felsher whether she considers e-cigarettes to be a safer alternative to cigarettes, she responds: "Ooooh! The million-dollar question!
"If you're talking about youth then there's no comparison, because youth aren't smoking cigarettes," she says. "So it's not a comparison of cigarettes versus e-cigarettes. It's really a comparison of e-cigarettes versus fresh healthy air."

RISK VS. REWARD
The risk-benefit analysis
Of course, the question of whether growing, non-smoking children are better off without access to e-cigarettes is an easy one. But for smokers who have struggled to quit, the issue is far more complex. Although even Juul executives admit that the long-term effects of e-cigarettes are unknown, researchers still laud their potential to wean smokers off cigarettes.
"I believe if we fully embrace harm reduction, we could make cigarettes obsolete in 10-15 years," David Abrams, a professor at New York University's College of Global Public Health, told CNBC in the July documentary Vaporized: America's E-cigarette Addiction.
In a 2018 study, Abrams wrote that e-cigarettes have the potential to fall in a "sweet spot" for smokers, where high satisfaction and appeal intersect with reduced harm. Which is to say, even if a nicotine patch, lozenge, or gum is safer, they only work if smokers switch to them and then stick with them, or manage to quit entirely. (A recent study showed that about 14% of smokers using a single one of these methods were able to quit for six months or longer.)
This calculus echoes Big Tobacco's messaging about "reduced risk" products. PMI, let us not forget, is here to "unsmoke the world" with the IQOS. "My objective is to replace cigarettes with the alternatives," the company's COO told Quartz in August.
When a city like San Francisco bans the sale of e-cigarettes, as its Board of Supervisors unanimously voted to do in June, it understandably sends a message that decision-makers are more concerned about children's health than smokers'. But Benowitz points out that the "benefit versus risk equation"—the benefit of converting cigarette smokers to e-cigarettes, weighed against the risk of children vaping—depends on the smoking prevalence where one lives. In San Francisco, the adult smoking rate is 10%, compared with a national rate of 14% as of 2017. In a place like, say, Calhoun County, West Virginia, where an estimated 23% of adults smoke, removing access to safer alternatives could be devastating.
It's also a socioeconomic issue, which means e-cigarette crackdowns can play into a narrative that the government is run by elitists who are out of touch with poor people's problems—nicotine addiction among them. In the US, only 6.5% of college graduates smoke, compared with 27.3% of those who didn't finish high school. And more than 25% of people with household incomes under $25,000 per year smoke, compared with less than 10% of those who earn incomes above $75,000.

Where are the regulators?
Of course, the San Francisco Board of Supervisors wouldn't have to make this cost-benefit analysis at all if e-cigarettes were better regulated at the federal level.
"There really isn't regulation," says Azim Chowdhury, a regulatory attorney who has focused on tobacco law for the past decade, and counts mid-size vape companies among his clients.
The FDA has only regulated tobacco products since 2009, when Barack Obama signed the Tobacco Control Act into law—and that law only expanded to include what the FDA calls "electronic nicotine delivery systems," or ENDS, in 2016. Even then, the FDA didn't proceed with what Chowdhury describes as "basic rule-making" for e-cigarettes. For example, "there are no standards on what can be used or can't be used in the e-liquid," he says.
Under the TCA, e-cigarette (and e-juice) manufacturers do have to disclose their ingredients to the FDA. They must also adhere to the same rules and restrictions as cigarette manufacturers—for example, they're not allowed to sell their products to minors, and they have to include warning labels on packaging. ("This product contains nicotine," reads the warning on a Juul. "Nicotine is an addictive chemical.")
But one rule that didn't extend from cigarettes to vape products is the ban on fruit and candy flavors. While Michigan this month became the first US state to ban flavored nicotine vaping products, most people can still vape green apple candy, cookies-and-cream, and "holy cannoli" e-juice. (Fun fact: In 1963, a Pennsylvania inventor patented a battery-powered "smokeless non-tobacco cigarette" which heated liquid to allow users to "smoke their favorite food.")
Anti-smoking activists point out that such flavors appeal to kids, while manufacturers argue they help ensure smokers' adoption of vape products over cigarettes. In November, just before then-FDA commissioner Scott Gottlieb announced a plan to crack down on "kid-appealing flavors," Juul pulled its mango, fruit, creme, and cucumber pods from retail stores, part of its "action plan" to reduce youth access and appeal. The flavors are still available on Juul's website, where buyers go through an age-verification process that requires two-factor authentication and a social security number or photo ID.
Even with some protections in place, it's clear that these products were widely accessible—and became wildly popular—before officials had the framework to regulate them, not unlike how city streets filled with Uber cars and Bird scooters before lawmakers figured out how to download the apps.
The 2016 update that added e-vapor products to the Tobacco Control Act also added a requirement that all ENDS manufacturers would have to submit applications called "premarket tobacco applications," demonstrating a public health standard evaluating risks and benefits to smokers and non-smokers alike. Products already on the market were first given an August 2018 deadline for those applications. In July 2017, Gottlieb—then a new Trump appointee—extended the deadline to 2022. Public health organizations sued the FDA for delaying the reviews, and the deadline was moved to May 2020, a date Chowdhury says has left his clients scrambling to complete clinical studies required to satisfy the standards.  (Gottlieb resigned from his post at the FDA in March.)
And those are just the companies who want to play by the rules.

Vapor madness
Many of the recent stories of respiratory illness landing vapers in hospitals likely involve illicit products, according to CDC officials, who say that victims reported using both nicotine products and those they believed to contain cannabis-derived THC. It's highly possible those products came from the black market—especially in Kings County, California, where several patients reported buying products from "pop-up shops." Health officials are likewise focusing investigations on possible contaminants, rather than common e-juice ingredients.
"The patients had switched from regular retailers to the pop-up shops," Nancy Gerking, Kings County's assistant director of public health, told the Washington Post. Because they "found a difference between the potency of the products … they had to use twice as much, so they were taking twice as much of the product into their lungs."
With harrowing reports of the teen craze for vaping and terrifying images of wheezing patients in hospital beds, it's little wonder that concerned citizens—especially parents—are desperate for more restricted access. But critics say blanket bans like the one in San Francisco could do more harm than good, driving vapers back to cigarettes, or fueling an unmonitored black market. Says Chowdhury, "When has prohibition ever really worked?"

Big Tobacco 2.0 
While researchers work to learn more about these widely varied products' long-term effects, Juul has embarked on a lobbying campaign that one senior congressional aide called "just crazy" in its scale. It's buying full-page advertisements in the New York Times and putting its executives on network television to establish its position as a crusader against underage vaping.
An optimistic read of the industry's current US status, whereby legitimate players are scrambling to complete studies and submit authorization forms to legally sell their products in a more regulated market, would be that the FDA is working hard and fast to keep Americans safe. A cynical read might be that the damage is done. An entire generation that had little use for cigarettes is now attuned to a hip, addictive alternative, and even an accelerated timeline for regulation can't keep pace with the snowballing reports of health issues connected to vaping, or contend with the black market. When regulations do kick in, it's highly possible that only companies with lots of lawyers, scientists, and lobbyists will have the resources to comply, paving the way for Big Tobacco 2.0. (PMI's IQOS was the first ENDS product to receive a premarket tobacco application.)
It's true that many researchers agree e-cigarettes and heated tobacco products are safer than cigarettes. But it's also true that consumers have every reason to suspect tobacco companies of selling dangerous products, marketing them to children, and lying about their harmful effects. After all, they've done it before.