JP Morgan Chase CEO Jamie Dimon today scored a roughly 74% jump in his total pay for 2013, despite a round of withering fines that ate into the bank's earnings last year.
His pay includes a $1.5 million base salary and $18.5 million worth of restricted stock, according to public filings released midday today (Jan. 24). That's an $8.5 million hike, which comes after the more than 50% pay cut Dimon took for 2012. That cut was meant by the bank's board to serve as punishment for Dimon's lack of oversight during the firm's "London whale" trading scandal, which lost it $6 billion.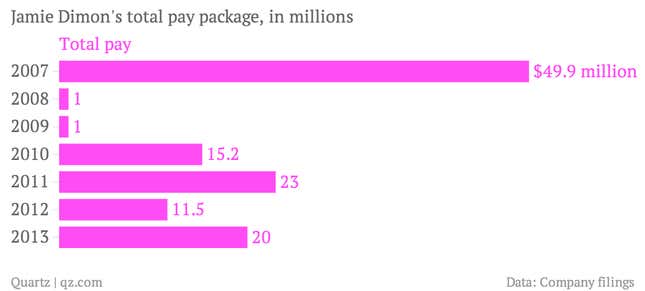 Dimon's big raise this time comes despite the more than $22 billion in fines the bank was ordered to pay in 2013, for everything from underwriting billions of dollars worth of dicey mortgages to not reporting suspicions that it harbored about Bernard Madoff's Ponzi scheme.
So why the raise? According to a filing with the Securities and Exchange Commission, the board believed last year's fines owed more to problems at the troubled firms Bear Stearns and Washington Mutual, which JP Morgan acquired during the financial crisis, than to Dimon's management. Though Dimon oversaw those acquisitions, the two banks' troubles predated them.
A source told Quartz that the board views Dimon as one of "the best CEOs on Wall Street" and there was a general view that he handled the bank's litany of fines well enough to deserve a big pay bump. The New York Times, however, reports that there was disagreement on the board about whether to raise or cut Dimon's pay. Some board members worried that it would look bad to average folks, given the lingering effects of the "London whale" scandal. How bad it does look may depend in part on how much other banks decide to pay their CEOs for 2013.