Just over a year ago, veteran General Motors executive Karl Slym moved to Tata Motors to fix one of India's flagship brands, which has suffered as India's economy cratered and Tata's lengthy, expensive project to build the world's cheapest car failed to boost sales. On Sunday, Slym died after an unexplained fall from the 22nd floor of Bangkok's Shangri-la hotel, which police are investigating as a possible suicide.
"We found a window open. The window was very small so it was not possible that he would have slipped," police lieutenant Somyot Boonyakaew, who is heading the investigation, told Reuters. "He would have had to climb through the window to fall out because he was a big man. From my initial investigation we believe he jumped."
A letter was found in Slym's room, where he was staying with his wife after attending a board meeting of Tata Motors' Thai subsidiary, but the contents have not been made public.
Slym's death comes in the middle of his wide-ranging reorganization of Tata's automotive unit, which included an "aggressive" sales strategy including new colors and features for its existing models, an overhaul of its parts-sourcing division, a new management team and new products like the "Revotron" engine. So far, the changes have failed to make much of an impact at Tata, whose August sales fell to less than 9% of the Indian market, down from about 13% in 2010.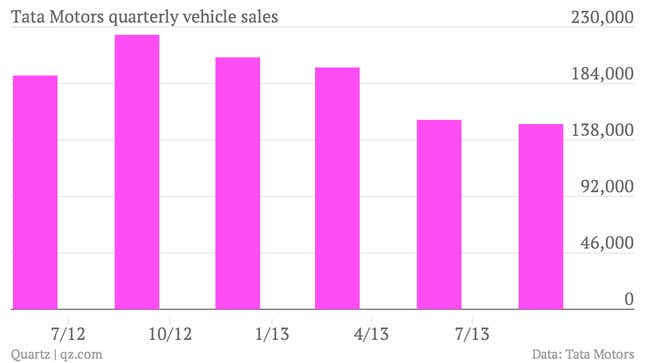 Nevertheless, analysts said Slym's strategy was about to pay off. "His death comes at a time when the company seems to be close to turning the corner," Anil Sharma, an analyst with IHS Automotive, told Reuters. "We should be able to see the results of his work in a year or two."
Before joining Tata in September of 2012, Slym was at General Motors for nearly two decades, most recently as the head of General Motors in India and as an executive vice president at GM's troubled joint venture with China's SAIC.  While the US automaker reorganized its domestic operations during massive bankruptcy proceedings, Slym and other emerging market managers were aggressively growing the international business.
In October, GM India was charged with "corporate fraud" for selling sports utility vehicle that didn't meet emission standards. The fraud was conducted with the "full knowledge and complicity" of some of its top management between 2005-2012, a government-appointed panel found. The company recalled more than 100,000 cars in India.
In an interview with India's Economic Times last week, Slym said Tata Motors was also looking overseas to offset slower auto-buying at home. "We are going to new markets such as Australia, Saudi Arabia, [and] Indonesia," he said. Shares of Tata Motors fell 3.4% on the news of his death.