Political tensions in the South China Sea have seldom been higher, with China's  "marine identification zone" deemed a provocative threat to peace by neighboring countries and the United States. The vast area, variously claimed by China, the Philippines, Vietnam, and other southeast Asian countries, is hotly contested in part because it is thought to hold vast reserves of oil and natural gas.
It's easy, then, to foresee some sticky scenarios emerging from an unusual joint research trip set to embark this week. Thirty-one geologists from 10 countries—including 13 from China and nine from the United States—will spend two months drilling rock samples in the South China Sea. The trip is funded mostly by China, but will take place on a US-operated drilling vessel, the JOIDES Resolution, under the auspices of the International Ocean Discovery Program.
If the group finds oil deposits, as a previous research expedition did in the late 1990s, it will raise the diplomatic stakes for the countries vying for control of the South China Sea waterways and islands, such as the Spratleys and Paracels.
"Oil and gas fields lie close to the coast, but the key is to open the treasure box buried beneath the basin," Wang Pinxian, a marine geologist and member of the Chinese Academy of Sciences, told the South China Morning Post. Estimates vary widely, but the South China Sea could hold up to 17 billion tonnes (18.7 billion tons) of oil and 498 trillion cubic feet of natural gas, according to Cnooc, China's state-controlled energy group.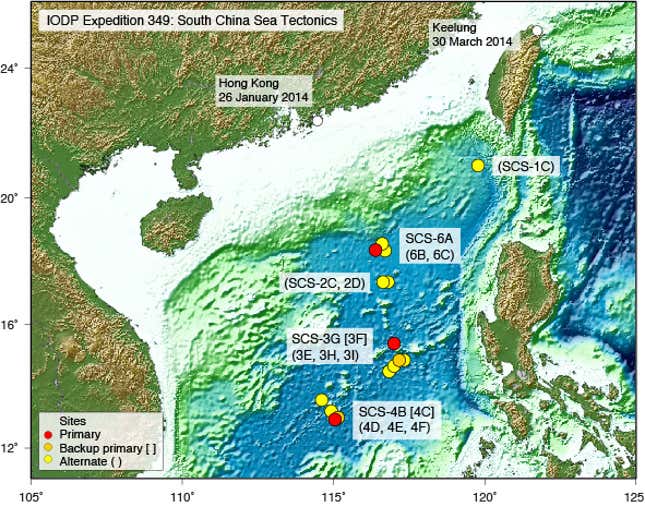 The JOIDES Resolution was previously funded largely by the National Science Foundation, a US federal agency, but thanks to budget cuts last year China needed to step in to finance the South China Sea trip. "The generosity of the Chinese government—which is paying US$6 million, or 70 per cent, of the expedition's cost—was a deciding factor," the Post reported.