Matthias Zachert is not a household name. Even among those who follow European business, the 46-year-old German CFO (pictured above) is not top of mind. But those in the know think Zachert is a uniquely capable manager, and are willing to put their money behind him.
Yesterday, German chemicals and pharmaceuticals group Merck KGaA announced that Zachert would step down as CFO. (Germany's Merck is unrelated to American pharma group Merck & Co, which used to be the German firm's subsidiary.) The finance chief is leaving to join specialty chemicals group Lanxess as its new CEO.
Investors made their opinion of Zachert clear when the markets opened today—Lanxess's shares surged by 8% and Merck's sank by 10%. In terms of market capitalization, these moves represented a swing of some €3.2 billion ($4.4 billion) in the value of these companies. By this measure, Zachert could be considered Europe's most valuable executive, at least for today.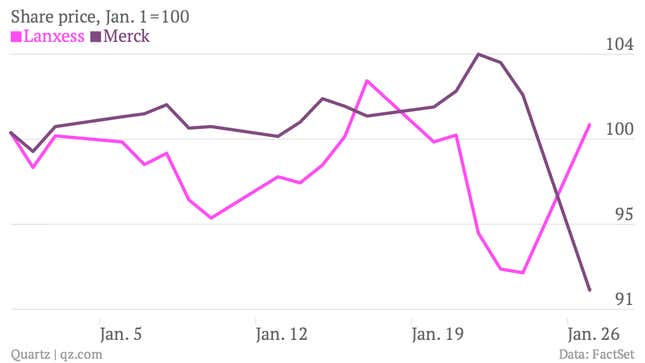 Lanxess was the second-worst performer among Germany's blue-chip listed companies last year, losing nearly 30% of its value. By contrast, Merck gained 30% in 2013 thanks to a tough restructuring program in which Zachert played a big role. Analysts praise the CFO's clear, no-nonsense style, which is also an asset when overseeing thousands of layoffs and plant closures.
One excitable analyst described Zachert's move as "gob smacking," in part because he left Lanxess to join Merck only three years ago. Since he left, Lanxess's waning performance has forced it to launch its own restructuring plan, slashing costs and reducing its reliance on Europe's moribund auto industry, which accounts for 40% of its sales. (As the share-price record shows, this has been less successful than Merck's plan.) If there was anyone suited to turning around Lanxess's fortunes, the markets seem to think, it is the man who ran the group's finances during happier times.
If Zachert can meet these high expectations, Lanxess shareholders won't be the only ones to benefit. Following Joe Kaeser's promotion from CFO to CEO at Siemens, Zachert's move is another high-profile CEO appointment for a finance chief at a large listed firm. There are plenty of companies in Europe in need of a deep restructuring, given the continent's ongoing economic woes. Boards of directors will be following the progress of Zachert, Kaeser and other former finance chiefs closely; if they like what they see, expect many more CFOs to be tapped for CEO posts in the near future.