One look at the Hong Kong skyline and it is obvious: This is a place where big business thrives. Soaring skyscrapers are topped with the signs of international banks, insurance companies, and global hotel chains. But the city is also a prime spot for startups.
With access to impressive local and international talent, efficient company registration systems, and even government support, entrepreneurs flourish. And today, this hyper-connected city is seeing rapid growth in technology and innovation companies, eight of which have reached unicorn status.
 So while many Hongkongers see the city as dominated by finance, tourism, and trade, plenty are gaming for it to be the next hot tech hub. We talked with three. 
The Incubator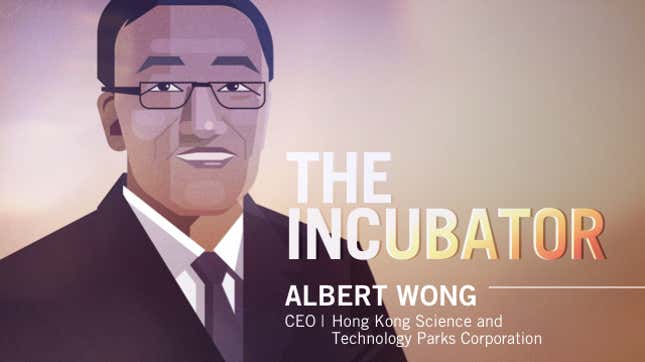 "The passion of people working here surprised me," says Albert Wong, the CEO of the Hong Kong Science and Technology Parks Corporation, a government-sponsored innovation and technology ecosystem that is home to around 770 technology companies—just over half of which are startups. "I was skeptical about tech and innovation in Hong Kong before I joined. But the optimism of the 13,000 people working here is contagious."
Home to 20-30 large companies, a high number of small and medium-sized enterprises, and incubation programs housing 350-400 startups, the separate parts of the Science and Technology Parks Corporation work together to form a dynamic whole. "We are building an ecosystem where people interact with each other; it is almost like a university," says Wong. "The number one thing we do is to concentrate on Research and Development (R&D). Even the big companies are running their R&D—not at headquarters—but here."
Alongside the incubator are communal facilities such as electronic and biomedical labs, allowing teams to share advanced equipment without the overhead. And in addition to hardware, Wong has spent the last few years building up an investor and venture capitalist network.
 This environment has led corporations to invest in nimble, local tech companies, and venture capitalists to look outside of the startup hubs of Shenzhen and Beijing. "We have almost everything here," Wong says. "We have government support, infrastructure, universities, talent, and money. The only thing we need to work on is the general awareness that IT can be successful. We tend to believe that the best jobs are in the banking sector, but technology will be the future of Hong Kong."
The Venture Capitalist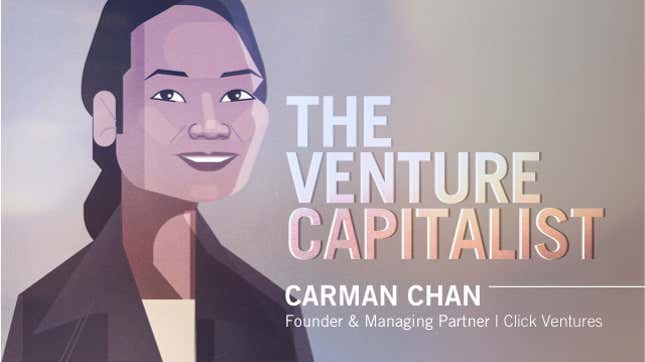 Hong Kong's growing tech scene isn't only Wong's experience. Carman Chan—founder and managing partner of Click Ventures, an early-stage venture capital firm based in Hong Kong—says that opinions in the city have changed considerably. "Six years ago, the ecosystems across Asian regions—including Hong Kong—weren't as vibrant as in mainland China," she explains. "Both the general public and the corporate world were scared by the high-tech bubble, so they were more conservative. But over the last six years, we have found places that are working hard to catch up. There are more opportunities across Asia, and it has triggered investment from other countries."
Chan's role as an investor has evolved alongside this increased internationalism. Today, startups can aim outside of their regions from the outset—taking advantage of open platforms, global map data, and language tools. To support the expansion strategies of the companies she invests in, Chan emphasizes the importance of travel and international networking. With Hong Kong as a home base, this is made easy. 
"If you are a hardware-related startup, you can deal with the manufacturer in Shenzhen and manage your international clients here. In Hong Kong, you can hire talent with global business experience as well as locals to communicate with your factory. And if you are a software startup with a target market of Asia—including mainland China—Hong Kong is a very good starting point."
The Founder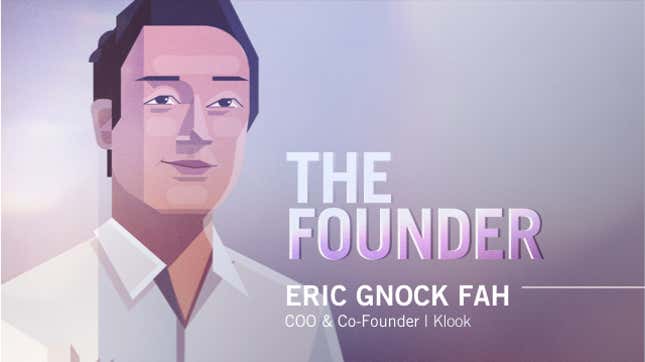 Hong Kong's global nature is what inspired the co-founders of Klook—a world-leading travel activities and services booking platform that reached unicorn status in 2018, just four years after inception. "From Hong Kong, we had the opportunity to travel a lot," says Eric Gnock Fah, Klook's COO & Co-Founder. "As a consumer myself, I felt the pain of trip planning." 
Pledging to reduce the friction that travelers feel by providing a seamless way to discover and book experiences around the world, Gnock Fah and his partners also capitalized on the large number of visitors coming into their own city. "In retrospect, Hong Kong was a good place for this because it is one of the most visited destinations in the world. We looked at how we could develop and digitize the tourism ecosystem here to better serve travelers coming in. That positioned us from day one as a global company." 
Today, Klook has over 20 offices around the world but is benefiting from starting the business in Hong Kong for a few reasons. Not only does it provide a strong legal, financial, and corporate structure, its perception in the global economy speaks for itself. 
"Hong Kong has always been proud that service comes first," Gnock Fah says. " When we go abroad, there is the perception that things from Hong Kong are of good quality." Whether producing platforms, products, or services, Hong Kong's reputation makes it a ripe starting point for businesses with global ambitions. 
Discover more about Asia's World City here.