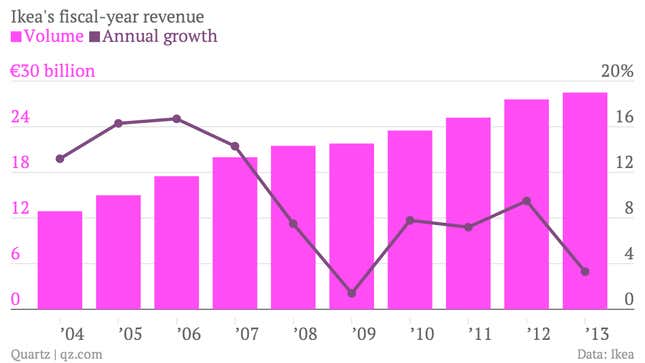 The numbers: Swedish furniture giant Ikea reported a 3.2% rise in revenue in its latest fiscal year, to €28.5 billion ($38.9 billion). In the year to August 2013, the group's net profit increased at a similar rate, to €3.3 billion. Both sales and profit set new records for the company, but the rate of growth was a lot lower than in previous years.
The takeaway: Ikea said it gained market share in "almost all" of the 42 countries in which in operates, helped in part by average product prices that fell by 0.2% over the year. Russia supplanted Italy as the company's fourth-largest market last fiscal year, with some 260 million visitors passing through Ikea-owned malls in the country. Two of the five wholly-owned stores the group opened last year were in China, another signal of intent. Still, Ikea generates just under 70% of its sales in Europe.
What's interesting: Ikea reiterated its goal of generating €50 billion in sales by 2020. This will require average annual growth of around 8% between now and then. Amid falling prices and heftier investments—the company pledged to spend €2.5 billion on store revamps in the current year, up from €1.9 billion last year—this implies more aggressive expansion. Indeed, Ikea has big plans for India, where it recently got approval to open up to 25 new stores, although the first probably won't open for another year or two. Thus, at its current pace of growth, what Ikea describes as its "ambitious growth agenda" may turn out to be a bit too ambitious.