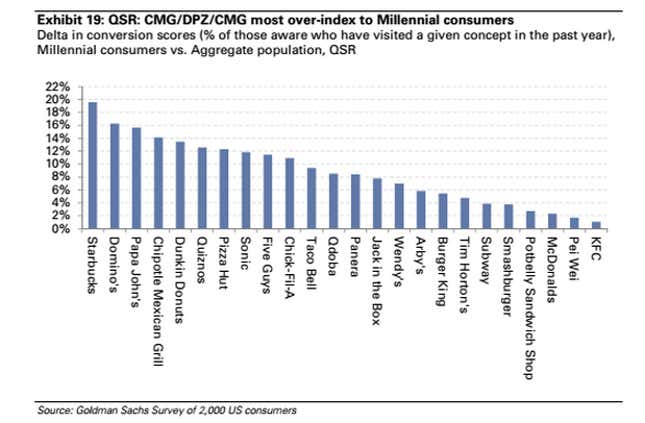 Gone are the days when the Big Mac ruled the roost in American fast food culture.
Goldman Sachs published a research note this morning that included  a survey of 2,000 consumers on their restaurant preferences. The bank argues that millennials (defined as consumers aged 34 and younger, or born after 1980) will be one of the key focuses for American restaurant chains this year and beyond. As a group, their spending will surpass baby boomers at some point in the next decade.
As the above chart shows, that group is far more likely to visit a Starbucks (and buy something) than are US consumers overall. But the same can't be said for McDonald's.
Young consumers are also more attracted to coffee shops than burger joints overall, Goldman found.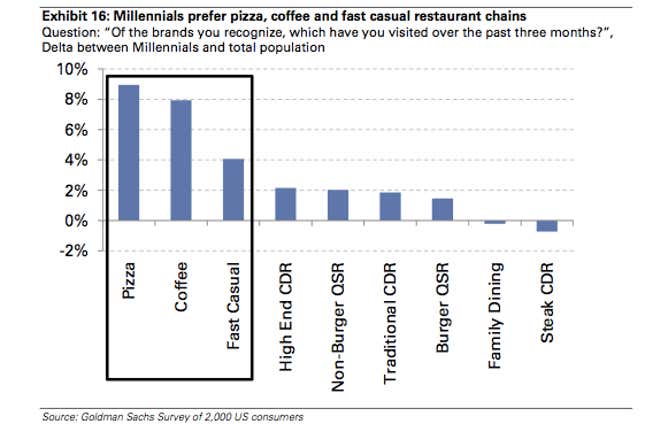 It follows, then, that Starbucks ranks more highly with these consumers than McDonald's in terms of "brand equity," or the restaurant's perceived value, look, feel and food quality, according to Goldman's research.
The allure of designer coffee, it seems, has tempted a debt-laden and jobless generation away from cheaper hamburgers and fries.