Central banks generally try to avoid surprising the markets. But when a bank hastily convenes an emergency meeting at midnight, it's clearly not business-as-usual.
Last night (Jan. 29), Turkey's central bank made a series of dramatic moves. Chief among them were huge hikes in its main interest rates, in an attempt to stem the slide in the lira, one of the main victims of a recent widespread rout of emerging-markets currencies.
One of Turkey's key rates, the one-week repo rate, was jacked up from 4.5% to 10%—an unprecedented jump in monetary policy these days. Traders were caught by surprise, sending the lira 4% higher in a matter of minutes—a huge jump in currency markets. Stocks in Asia rallied on the news, and early trading in Europe was similarly buoyant.
But the euphoria soon faded. At the time of writing, the lira has given up its gains, as have European equity indexes and US stock futures.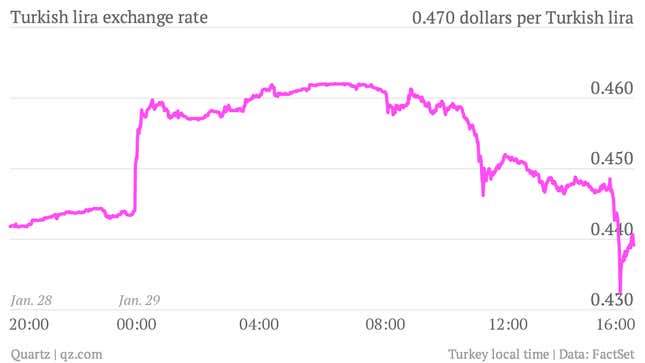 So was it all for naught? Where Turkey once had a weak currency and low interest rates, it now has a weak currency and high interest rates. This will inevitably dampen economic growth, which is already fragile thanks to the country's ongoing political turmoil.
But there could be a longer-term benefit to the central bank's move. Over the past few years the bank has avoided big rate hikes and instead unveiled an increasingly convoluted array of different interest rates and other tools to manage the financial system. That may be partly because interest rates are a politically sensitive matter in Turkey: The embattled prime minister, Recep Tayyip Erdogan, has repeatedly floated conspiracy theories about an "interest-rate lobby" led by foreign banks and political opponents trying to cripple the Turkish economy.
Last night, however, the bank seemed to say that enough was enough. It not only raised rates but pledged to "simplify the operational framework," emphasizing the one-week benchmark rate as its main policy tool from now on. And in response, Turkey's finance minister struck a more conciliatory tone than Erdogan, a sign that political pressure on the central bank may be easing. The subsequent sell-off in the lira is already testing the central bank's newfound resolve, with markets watching closely to see if it stands its ground against the inevitable backlash from some corners of the political establishment. 
But amid the general nervousness with emerging-market assets, investors both inside and outside Turkey should take heart from this move. A central bank that asserts its independence and promises to maintain something more closely resembling an orthodox, predictable monetary policy can only be a good thing.