Hong Kong chief executive Carrie Lam today (Oct. 4) announced the city has used the colonial-era Emergency Regulations Ordinance to bring in a regulation banning the use of face masks at protests. Violators of the law will face a year in prison or a large fine.
The law, which will be discussed by the Legislative Council when it returns in 10 days, will take effect from midnight tonight. Under it, police will be able to stop anyone wearing a mask and ask them to remove it.
It's a startling turn for a city that prides itself on its predictable rule of law and high level of protection for civil liberties. The Emergency Regulations Ordinance dates to 1922, when it was instituted to quell a more than 50-day strike by Chinese sailors for better pay, and was last used during labor riots in 1967 fueled by pro-Beijing forces.
The rule is likely to be difficult to enforce in a city where masks are widely used quite apart from protests. The deadly SARS outbreak in 2002 and 2003 left the city scarred, and it's common to see people on the subway wearing medical masks. Masks are also popular against periodic upticks in hazy pollution. The rule allows for exemptions for pre-existing medical reasons, for religious reasons, or for use in connection with a person's profession.
The summer's protests have seen a variety of masks in circulation, from the usual thin surgical ones, to more concealing full-face masks and gas masks for tear gas, to pop culture ones such as the Guy Fawkes mask made popular among protesters by the movie V for Vendetta. Protesters use them because they fear being identified and outed online on pro-government social media groups. Some well-known activists have faced direct attacks by thugs.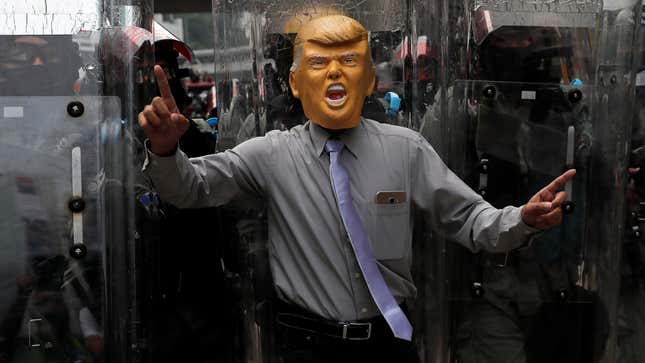 News of the looming use of the emergency power began circulating yesterday, and has prompted fear that this blow to protester anoymity is just a way to test the waters for more expansive uses, such as a curfew or restrictions on internet use.
Lam explained the decision in Cantonese, the lingua franca of the city, and also made the following remarks in English:
I would like to say a few words in English. Protests arising from the Fugitive Offenders have continued for nearly four months now. Over this period, protesters' violence has been escalating and has reached a very alarming level in the past few days, causing numerous injuries and leading Hong Kong to a chaotic and panic situation. We are particularly concerned that many students are participating in these violent protests, or even riots, jeopardizing their safety and even their future.

As a responsible government we have the duty to use all available means to stop the escalating violence and restore calmness in society. As the current situation has clearly given rise to a state of serious public danger, the chief executive in council decided at a special meeting this morning to invoke the power under the Emergency Regulations Ordinance and make a new regulation in the name of prohibition of face covering regulation, which is essentially an anti-mask law, something which has originally been introduced in a number of jurisdictions around the world and discussed here in Hong Kong.
We believe the new law will create a deterrent effect against masked violent protesters and rioters, and will assist the police in its law enforcement. The security for security will later explain in greater details the provisions and the secretary of justice will speak on legal matters.

I would like to emphasize the decision to invoke the ERO is a difficult but also a necessary one for public interest. Let me make four points in conclusion:

Although the ordinance carries the title emergency, Hong Kong is not in a state of emergency and we are not proclaiming that Hong Kong is entering a state of emergency. But we are indeed in an occasion of serious danger, which is a stated condition in ERO for the Chief Executive in Council to exercise certain powers. And I would say that we are now in rather extensive and serious public danger. It is essential for us to stop violence and restore calmness in society as soon as possible. We hope that the new legislation can help us to achieve this objective.

The second point I want to make is that the objective of this regulation is to end violence and restore order and I believe this is now the broad consensus of Hong Kong people.
The third point is this regulation targets rioters or those who resort to violence. That's why the regulation contains defense and exemptions to cater for legitimate needs to wear a mask. And we believe that by so doing, we have struck a necessary balance.

The regulation is a piece of subsidiary legislation, subject to negative vetting. So when Legislative Council resumes on the 16th of October, the regulation will be tabled in the Legislative Council for members' discussion.

Finally let my reiterate that I and my principal officials will continue our dialogue with the public for it is the best way to find solutions to some of the deep-seated social problems in Hong Kong and to allow Hong Kong to move forward.