Land-locked Laos is one of the poorest countries in the world, but it has one thing in abundance: access to the massive Mekong River. The country's hydropower potential has earned it the nickname "the Battery of Asia" and made it a magnet for investment from its neighbors: Thailand, southeast Asia's second-biggest economy; Vietnam, a strategic Communist ally since the 1970s; and China, which is writing checks that put the rest to shame.
Guan Huabing, Beijing's ambassador to Laos, announced today (Jan. 30) that China's cumulative investment in Laos now stands at $5.1 billion, edging out Thailand and Vietnam. China is also building a controversial railroad linking its Yunnan province to the Lao capital Vientiane, at a cost of $7.2 billion that it is loaning to Lao government—equivalent to 75% of the Lao GDP.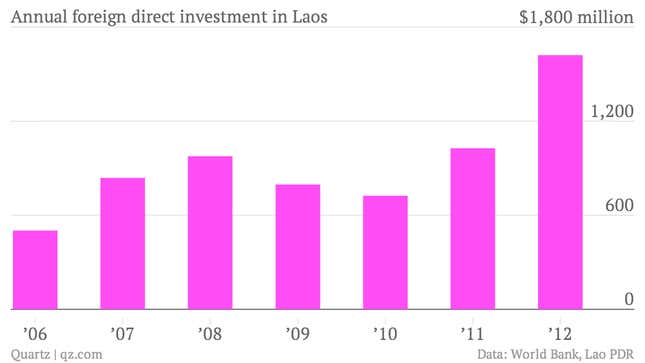 China's increasing influence has long been a worry for Vietnam. It "feels threatened" by its increasingly marginalized role in Laos, according to a letter last year from the Vietnamese Communist Party to its Laotian counterpart that was obtained by Radio Free Asia. And there is more to be lost than just political influence: Laos is upstream of Vietnam, Thailand, and Cambodia on the Mekong, so any dams that it builds there with Chinese assistance could have dire consequences for its neighbors.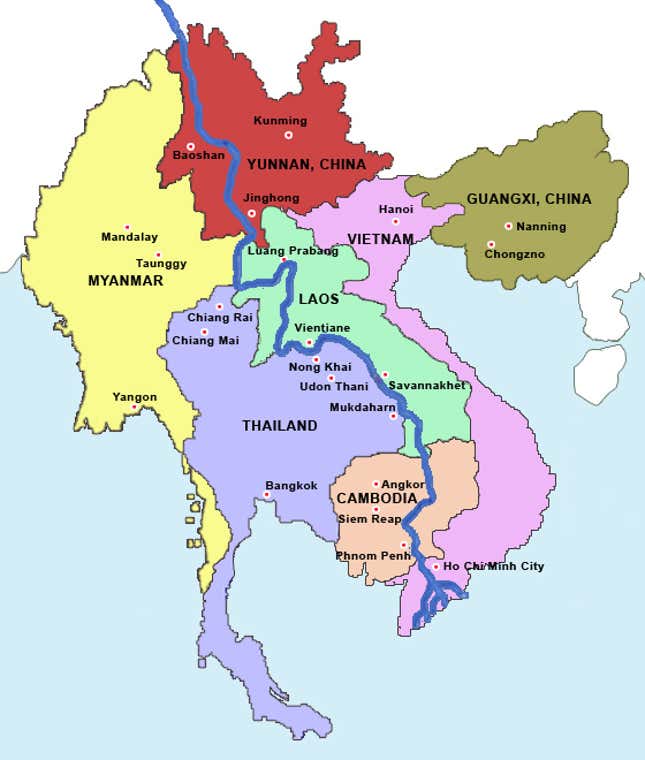 Of the nine dams being planned in the Laotian Mekong, Chinese developers and investors have interest in at least four, according to East Asia Forum, along with at least half of the 63 dams being planned on the Mekong's many tributaries (the government lists its planned projects here). Environmental groups and Western governments have warned that poorly planned dams could cause untold damage to the region's economy.
When US secretary of state John Kerry visited the region in December, he said: "No one country has the right to deprive another country of the livelihood and eco-system and its capacity for life itself that comes with that river. … That river is a global asset, a treasure that belongs to the region."