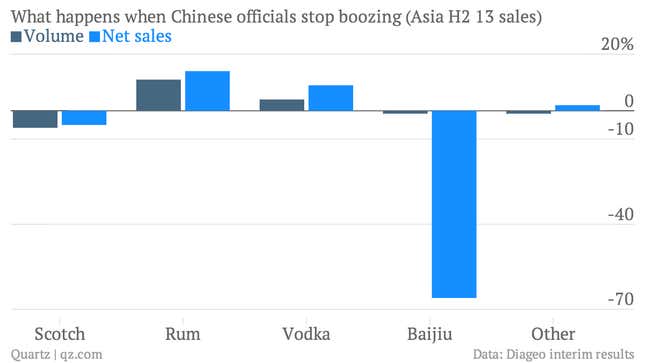 The numbers: Crummy. Net sales came in at £5.9 billion ($9.7 billion) for the last six months of 2013, down about 1% compared with the same period of 2012. Profit was up 3%, at £2.1 billion. Investors weren't thrilled; by mid-morning in London, shares had were down more than 6%.
The takeaway: The Chinese government's crackdown on corruption is taking its toll on Diageo's sales in the region. Declining sales in Asia, which generated around 14% of Diageo's net sales in second half of 2013, were partly due to a big dent in sales of Johnnie Walker Black and Shui Jing Fang, Diageo's line of premium baijiu (rice wine). Both were once popular gifts proffered to strengthen business relationships. (To be fair, lousy scotch sales weren't all China's fault; tax hikes in Thailand did their part too.) At least Diageo's hedge against over-reliance on Chinese male drinking culture is helping offset the crackdown fallout slightly. Sales of Baileys, which Diageo markets toward women, surged 37% in China in the second half of last year.
What's interesting: Back in 2011, Asia was the hot new emerging market for booze, accounting for 14% of Diageo's net sales, compared with Latin America and the Caribbean's 12%. That's slipped a bit, as Asia now generates 13% of net sales. In fact, Latin America—responsible for 15% of sales—was the only region with significant sales growth in the second half of 2013 (they were up 11% in the fourth quarter). And just because Diageo's baijiu investment is having a rough run doesn't mean focusing on local favorites is a misguided strategy. In Latin America, big growth is increasingly coming from local faves like rum and cachaça. Look for an increasing focus on premium local brands, as Diageo pushes to increase margins.