People don't tend to say nice things about their cable box. But listen to this: "I have an X1, the Comcast box, at home. It's got apps and I listen to Pandora on it…. [It's] a great product."
That rare bit of praise for America's biggest cable company comes from Netflix CEO Reed Hastings, speaking to investors last October. (His only complaint about the X1 was that it doesn't support Netflix.)
Hastings's enthusiasm for Comcast's cable box appears to be shared by other customers. So much so that it could be the reason why the cable giant added more video customers than it lost last quarter—for the first time in six and a half years.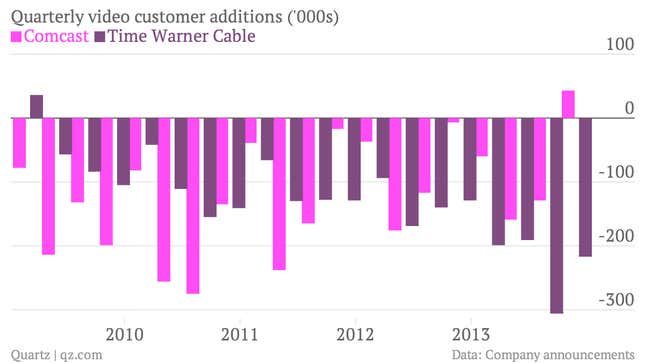 Time Warner Cable, which is less advanced in its plans to offer its customers an improved video experience, suffered more video subscriber losses (217,000 to be precise) over the same period.
When Americans "cut the cord," or cancel their cable video subscription, and decide to consume their TV and movies via the internet instead, they typically do so through the purchase of a relatively inexpensive streaming device such as an Apple TV, Roku, or Google's Chromecast.
Not only do these devices let you watch cheaper subscription services like Netflix or Hulu through your TV set, they typically have much more user-friendly and searchable interfaces than cable set top boxes do. That makes it much easier to find and buy content from iTunes, Google Play, or Amazon Instant Video (even if these shows and movies were also available "on demand" from the cable provider you just quit).
Comcast's new set-top boxes—generally known as X1, though the X2 has already started to roll out—are an attempt to rectify this situation. They feature a cloud-based interface that is searchable, making it easier to wade through hundreds of channels and the expanding range of on-demand content. They can be controlled by a smartphone or voice commands. They also include a digital video recorder. This promotional video gives a good sense of how they work:
The X1 service was launched in all of Comcast's major markets last year, though not all of its 21.7 million cable subscribers have one yet. Comcast has been investing heavily in the product. In 2013, capital expenditure in its cable division increased 11%, to $3.7 billion, driven mainly by a 12% increase on set-top boxes.
Buoyed by "strong double digit returns," Comcast plans to accelerate deployment of these newer set-top boxes to most of its customers this year. The company has found that X1 users consume more on-demand content and are less likely to drop their subscriptions.
Comcast has even held talks to license the product to industry peer Cox Communications, and with Netflix about getting the streaming service added to the platform.
Time Warner Cable, meanwhile, is pinning its hopes on a cloud-based video guide, which it hopes to make available to 6 million of its 11.2 million video subscribers by the end of the year. (Only those with internet-enabled set top boxes will be eligible.)
The rollout of the new video guide is part of the reason why the company's capital expenditure will rise by up to 19% this year. "It is light years ahead of anything we've delivered before. In particular, the VOD portal… and the advanced search capability are head and shoulders above the prior experience," said Time Warner Cable COO Robert Marcus last week.
BTIG analyst Rich Greenfield describes Time Warner Cable's cloud based guide in an email as "gen 1 but quite impressive." Barclays analyst Kannan Venkateshwar was less enthusiastic, describing the cable operator's strategy as "too little, too late" compared to Comcast.  "[Time Warner Cable] is potentially the only company in the space other than Comcast to have the scale to change the dialogue on what the cable product should look like in the future," he said in a note last week. "Instead, the company has once again adopted an incremental plan which will likely be just enough to get it up to par in three years with where its peers like Comcast already are today."
It's possible that the cable industry's new investment in upgrading the viewing experience for its customers proves fruitless. Apple is reportedly close to unveiling a new version of the Apple TV device. Despite impressive sales, Apple CEO Tim Cook has described the Apple TV as an "experiment." If the new version is Apple taking the product seriously, as rumors suggest, it could spur even more Americans to cut the cable cord. Meanwhile, the increasing availability of internet-connected televisions, possibly including a long anticipated TV device from Apple itself, could eventually render set-top boxes redundant.
But the cable industry's push to improve set-top boxes is still hugely significant. After years of being shielded from competition due to an unusual industry structure, in which each operator has a quasi-monopoly over certain parts in America, it signals an acceptance of the reality of competition—and a desire to be part of the future of television.