This story is from 2014, read about Prices for 2022 Super Bowl LVI tickets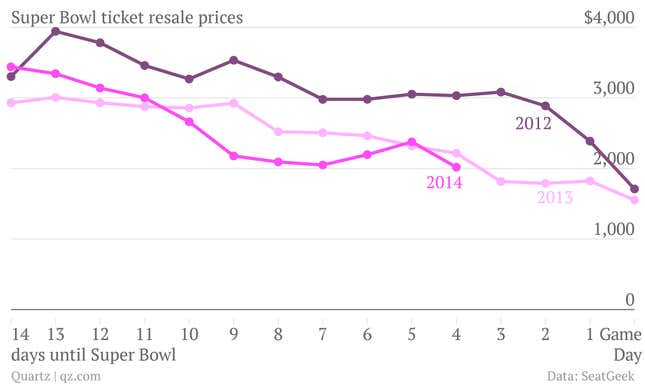 If you're still hoping to watch the Super Bowl in person, wait.
While the best deal on tickets—buying at face value—has past, resale market prices keep falling as the game day nears, according to data provided by SeatGeek, which tracks prices on secondary markets like StubHub.
Fans who bought tickets earlier this month likely got a bad deal. The average ticket purchase on January 19 came to $3,439 a seat. By January 29, the average ticket was exchanged for 41% less, or $2,017.
At the time of this writing, the cheapest available tickets SeatGeek could find cost $1,236 each.
Will Flaherty, the director of communications at SeatGeek, says there's still more value to be found. Prices, he told Quartz, "are not going to fall off the cliff, but they might fall another 10%." Such a drop would bring average ticket prices down to around $1,800.
Complicating the online sale of Super Bowl tickets is the requirement to possess the physical paper ticket. Unlike other events, where online sellers can email ticket retrieval codes or PDFs for their buyers to print out and use for entry, the original ticket is required to get into the Super Bowl. While SeatGeek expects at a thousand or more tickets to still be available for purchase at kickoff, buyers will have to meet the seller in person before they can get into the game.
So wait, but don't wait too long.