The executive leadership at Apple today, whether overseeing new initiatives like Apple TV+, older revenue generators like the iPhone, or future projects, is not wildly different than it was when Jobs retook the helm in the late 1990s.
While Apple likes to champion the efforts it has made to hire a more diverse staff—the company said in 2018 that 53% of new hires are from "historically underrepresented groups in tech"—Apple's overall makeup still skews white and male. Only 33% of employees are women, and 50% are white. In leadership positions, only 29% of staff are women, and 63% are white.
When it comes to senior leadership, most people have been with the company for decades, many in their same roles. CEO Tim Cook was chief operating officer before his ascension in 2011. He joined Apple in 1998, running operations and inventory management after Jobs poached him from a similar role at Compaq, apparently because he could stand up to Jobs's managerial tyranny.
Eddy Cue, the company's head of web software and services, including iCloud, iTunes, Apple Music, and the new content services, has been with Apple since 1989. He's been at the helm of some of Apple's biggest successes over the years, like the iTunes Store, the App Store, and the acquisition of Beats. Since the firing of another longtime software executive, Scott Forstall, who came over from NeXT with Jobs, even more projects have come under Cue's wing, connecting him to recent failures like the launch of the buggy Apple Maps, and the loss of market share for Apple's voice assistant Siri to competitors like Amazon's Alexa and Google's Assistant. Cue has reportedly been falling asleep in meetings, according to the Information, possibly under the pressure of his workload.
Other senior executives have had long tenures. Craig Federighi, who currently leads operating system software for Apple, joined NeXT in 1996, and stayed with Apple after the acquisition until 1999. He returned a decade later, and was promoted to senior vice president in 2012, reporting directly to Cook. Johny Srouji, the company's hardware lead, has been with Apple since 2008; communications director Steve Dowling joined in 2003; Jeff Williams, the man who replaced Cook as COO, has been with Apple since 1998; and Deirdre O'Brien, the company's head of HR and retail operations, joined in 1988.
Of the 18 people listed by Apple as senior executives on its site, only three joined in the past five years. Half of the executive group has been with Apple for over 20 years. Four are women.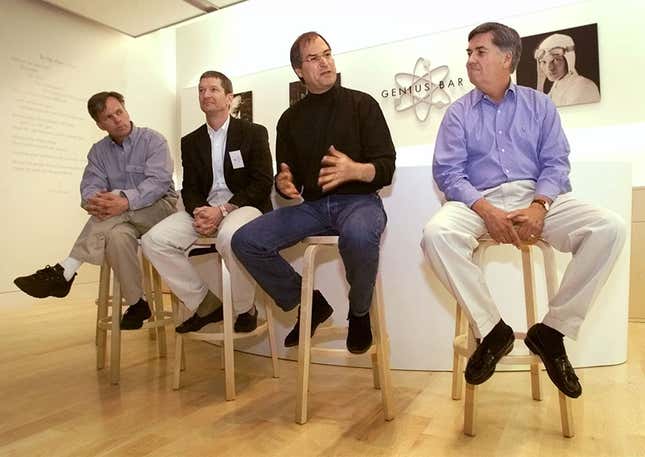 While experience is a great asset, some new voices might help Apple clarify the company's direction. The tenures of some female executives, including former head of retail Angela Ahrendts and iTunes and Apple Music head of marketing Bozoma St. John—one of the few women of color at Apple in a public role—were inexplicably cut short. Two of the newest additions to the executive team have been women, and the iPhone 11 launch event likely included the most diverse group of presenters to date, though as the Washington Post pointed out, there were no African-Americans onstage.
The business advantages of having a diverse team are now well-documented, and Apple is having to grapple with the reality of its makeup as much as any other company. It's a problem across the tech sector—Google's leadership team is 66% white and 74% male. Microsoft's team is also 66% white, and 80% male
Apple's entrenched leadership seems to be spilling over into its products. Retail stores are a messy, crowded shadow of their former selves. Several products, including AirPower wireless charging, the HomePod, and Group FaceTime, either missed public deadlines or were canceled. Apple Watches have been literally bursting from their seams. And the company continues to ship laptops with a keyboard that breaks when a speck of food gets lodged under a key.
The company's flagship product, the iPhone, has fallen behind many of its competitors in terms of innovations, and it's not particularly clear what comes after the iPhone.