Equity analysts are nothing if not persistent. Despite a long track record of misplaced optimism, they tend to forecast big things coming around the bend for corporate earnings—even when the future looks decidedly grim.
And so it goes in Europe: As earnings season gets going on the continent—only around 5% of the 600 largest listed firms have reported their fourth quarter results thus far—analysts are furiously slashing estimates for earnings growth. Six months ago the consensus forecast called for profits among Europe's Stoxx 600 companies to grow by 20% in the fourth quarter; today, analysts only expect 0.4% growth, according to Thomson Reuters (pdf).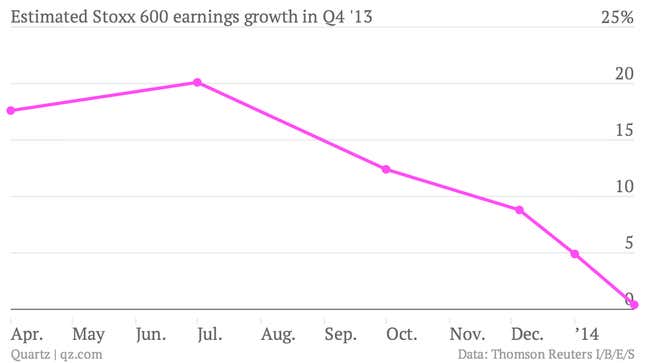 The companies to report so far have, in aggregate, missed even these more modest expectations by 1%. But it could be worse; in the previous four quarters the average miss was 3%. The actual declines in corporate earnings were also much steeper than expected for the latest quarter, even if companies fall a bit short of expectations.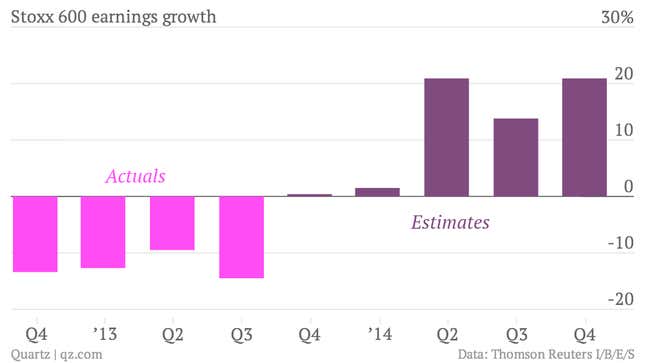 In part, the expected earnings rebound in the fourth quarter of 2013 reflects a grim quarter the year before, particularly for banks; UBS, for example, is expected to turn a small profit in its latest quarter, a big reversal from a mammoth loss the year before, weighed down by one-time legal and restructuring costs.
Looking further ahead, analysts expect double-digit earnings growth for the Stoxx 600 starting in the second quarter of this year. We should know by now how likely this is to actually happen.