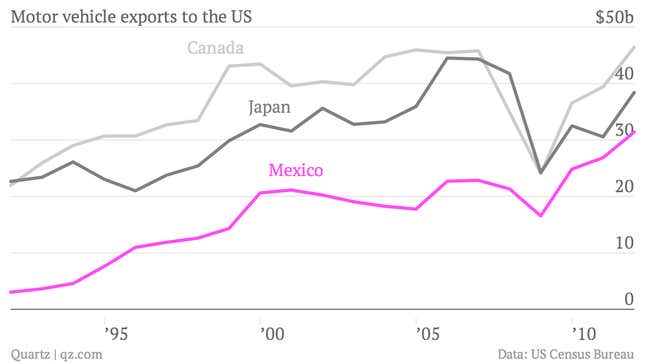 Mexico is hot on the heels of Japan when it comes to exporting cars to the US. The country is currently America's third-largest foreign source of automobiles, but by the end of this year, it will be number two, finally edging out Japan, according to the consultancy IHS Automotive. Canada is the largest exporter of cars to the US, though IHS projects that it could lose the title to Mexico next year.
Is this bad for Japanese automakers? No. The exact opposite is the case. Many of the new automobile plants that will elevate Mexico to the second place spot will be Japanese-owned: Honda, Nissan and Mazda are all expanding their operations in the country.
Mexico is an attractive place for Japanese automakers to set up shop, not only because of its proximity to the world's largest economy and relatively cheap labor, but because, for the most part, the US does not levy tariffs on cars from Mexico. Under the North American Free Trade Agreement (NAFTA) any car manufactured anywhere in North America made with at least 62.5% North American parts and labor (pdf) can be sold in Mexico, the US, or Canada tariff-free.
That agreement has played a central role the meteoric rise of Mexico's auto industry over the past two decades.