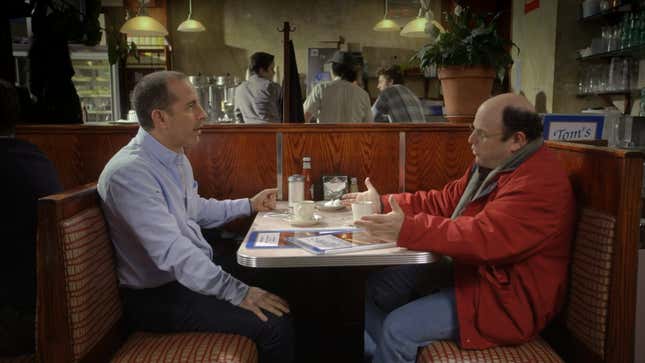 As halftime got underway at Sunday's lopsided Super Bowl, instead of a Bruno Mars concert, viewers were treated to something almost equally as hyped in recent weeks: a Seinfeld mini-reunion featuring Jerry Seinfeld and Jason Alexander.
Filmed at Tom's Restaurant on New York City's Upper West Side (the real-life inspiration for Seinfeld's Monk's Café), the segment featured Seinfeld and Alexander reprising their roles as Jerry and George, as well as a cameo from Wayne Knight as the fictional Jerry's nemesis, Newman.
A longer version of the reunion ran as part of Comedians in Cars Getting Coffee, Seinfeld's successful web series for Sony's Crackle streaming site.
While social media immediately began buzzing about the spot, which Seinfeld put together with the help of Seinfeld co-creator Larry David, it wasn't actually a Super Bowl ad. Neither Seinfeld nor Sony, which owns Crackle, paid FOX any money for the segment, according to The New York Times. Instead, FOX reached out to Seinfeld and asked him to put together a feature segment to help the network kick off its halftime coverage.
Because it was not an ad, Seinfeld was not technically lying earlier this week when he told New York's WFAN radio that multiple Seinfeld members had recently reunited for something that was not a Super Bowl ad nor a Comedians in Cars installment. (He quickly added, "It is not not those things, either.") Seinfeld first teased a "big, huge, gigantic" project in the works with David during a Reddit AMA chat last month.
Comedians in Cars Getting Coffee, which features Seinfeld chatting with famous friends like David Letterman, Tina Fey and Howard Stern, has been a big hit for Crackle, which has streamed the series more than 25 million times.