This winter's horrendous cold is probably to blame for depressed US car sales last month, including plug-in electric cars. When it lifts, forecasters think motorists will end up pushing sales of gasoline-driven models to levels not seen since before the financial crisis. But don't look for electrics to take off along with them—with an exception or two, they still suffer from relatively high sticker prices and uncompetitive performance.
One of my Quartz colleagues recently dubbed 2014 "the year of the electric car." So have other writers. But it won't be, at least not in the tipping-point way they're describing. Electrics will gradually and eventually become more widespread, but they will require a much better battery than the lithium-ion technology powering the current models. Battery costs need to be at least halved and probably come down again by half in order to enable a true electric car revolution.
The assumption behind the buoyant forecasts is that the market has been primed by the success of the sexy and tech-savvy Tesla S, promoted by media darling CEO Elon Musk (pictured above), and that a critical mass of 16 or so models made by other companies is now on the market at numerous price points.
But month-to-month sales figures for most of those models suggest that 2014 will be only so-so.
According to newly-released sales figures, only 1,252 Nissan Leafs rolled off dealer lots in January, the lowest since Feb. 2013. Chevy sold 918 Volts, its worst performance in two years. Even Toyota is having a tough time with its plug-in Prius—it sold 803 units, the worst since June.
Tesla will not release its January figures until April or May, but Inside EVs estimates that the carmaker sold 800 of its S model last month, a low marked just once since November 2012.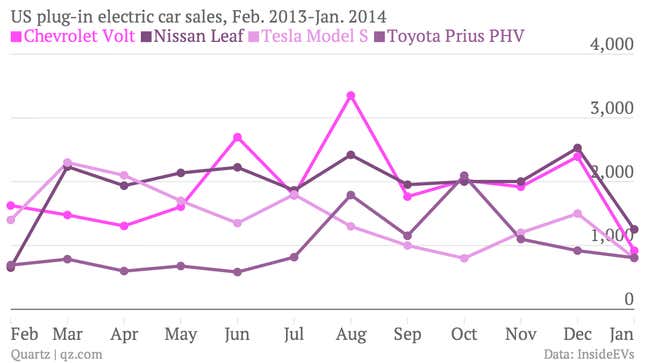 Many of the other new electric vehicles on the market aren't even meant to sell well—they are what are called "compliance cars," made by automakers solely to meet fleet emissions requirements in California. They include the Chevrolet Spark, the Ford Focus, the Honda Fit and the Toyota RAV4. A case in point: Mitsubishi sold one i-MiEV in January. "Poor little thing; it must feel terribly lonely," wrote John Voelcker, editor of Green Car Reports.
Generally speaking, sales figures show that the Tesla, too, has a ways to go: Musk says his competition is the BMW 5 Series and the Mercedes-Benz E class, the former which sold 367,000 vehicles in 2013 and the latter 242,000. Tesla sold 22,450 Model S's in 2013. Not quite yet a juggernaut.
Another black eye came last month from Kelley Blue Book, which released a study showing that electrics tend not to hold their value as well as conventional models. The Chevy Spark EV will sell for 28% of its $28,305 list price after five years, while the gasoline-driven Spark will hold 40% of its value, the research group said.
Some analysts say that it's 2015 that will be the big year. Voelcker of Green Car Reports, told Quartz that next year's sales will be propelled by a totally revised Chevy Volt, momentum by the Nissan Leaf, and, yes, the Tesla, including its new Model X crossover SUV. But as for 2014's world-changing predictions, your mileage may vary.