Amazon is doubling down on its logistics business. Hiring at warehouses is up tenfold compared to last year. The company is spending tens of billions of dollars on its quest to transition Prime to one-day shipping. And recent investments in delivery fleets confirm what third-party carriers like FedEx and UPS feared: When it comes to fulfilling its millions of daily orders, Amazon now sees itself as its most trusted partner.
In Quartz's latest presentation, we show you Amazon's vision for the future of logistics: automated warehouses, autonomous vehicles, and a decentralized network of last-mile delivery hubs. We also break down how the ecommerce giant has already reshaped retail and supply chain management.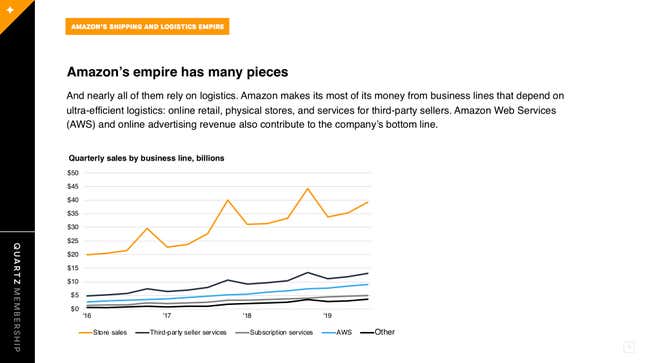 The sheer scale of Amazon's warehouse and shipping operations make it an influential player in the logistics industry. Its fleet of delivery trucks and Prime Air planes is already one-tenth the size of UPS's fleet—and steadily growing.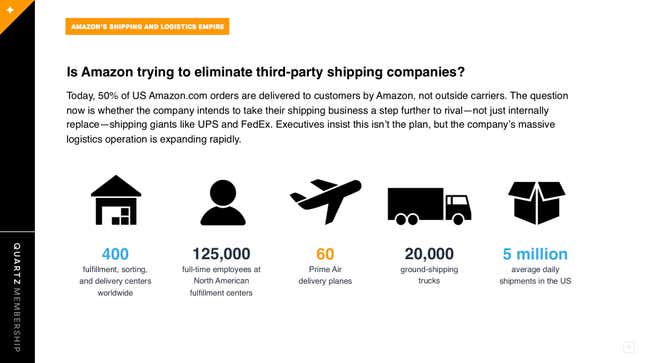 Increased capacity has come at a high and growing cost, but Amazon executives believe their investments will pay off in increased revenue from sales, Prime memberships, and third-party seller service fees. Amazon.com sales already account for 38% of ecommerce sales in the US, and an estimated 50% of global Amazon shoppers are Prime members.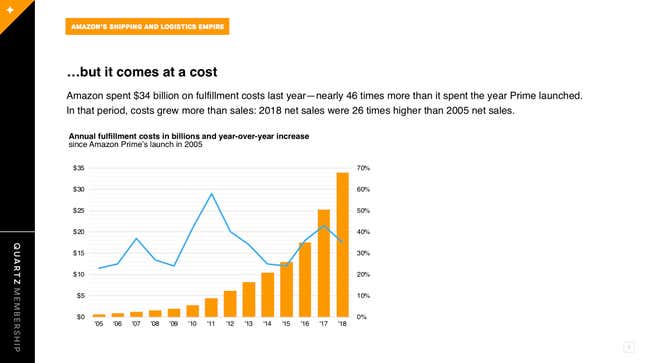 To see all of the slides, you can view the PDF version or download the PowerPoint file, which includes our sources and notes. This is one of an ongoing series of member-exclusive presentations, which you can read, reformat, and use as you wish.
Please share any feedback about what would make these presentations more useful—or topics you'd like to see us cover—by emailing us at members@qz.com. These presentations are an exclusive benefit for Quartz members. We'd love it if you'd encourage any friends or colleagues who express interest to become a member so they can access them too.