Twitter's user growth has stalled, and the ones it does have seem to be less interested in using it.
The company added 9 million monthly active users in the last three months of 2013, an increase of just 4% from the previous quarter. (One million of those new users were in the US.) That has spooked investors, pushing down Twitter's stock by as much as 17% in after-hours trading, even though revenue beat expectations.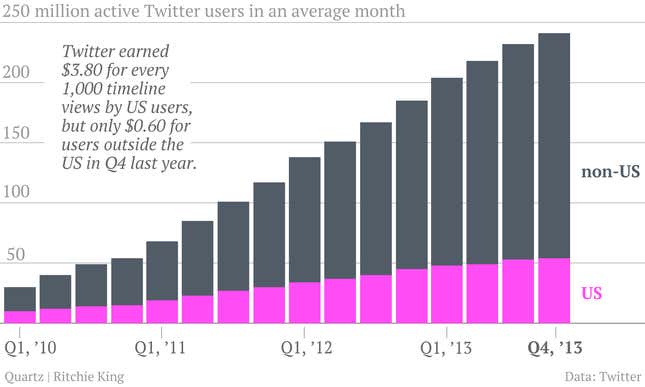 Even more alarming than the number of users, perhaps, is that those people are using Twitter less. The number of timeline views, or how many times people refreshed their tweets, fell 7% from the previous quarter. On the earnings call, CEO Dick Costolo said that changes to Twitter's mobile apps in the fourth quarter led to the decline in timeline views but increased the value of each view.
The bottom line—and the best news from this report—is that Twitter was able to wring more money out of its existing user base: $1.49 for every 1,000 timeline views, up 75% from a year prior.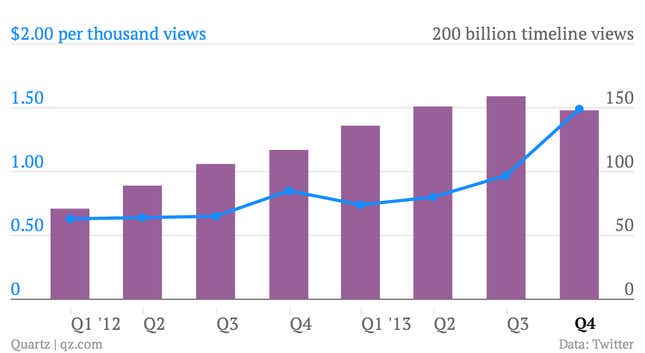 Twitter, which went public three months ago, still doesn't make money: It lost more than half a billion dollars in the fourth quarter.
But much of that loss can be attributed to employee compensation in the form of stock, and investors are more interested in Twitter's revenue at this stage of the company's history. That figure was impressive: $243 million in the last three months of the year; $220 million of the revenue was from advertising.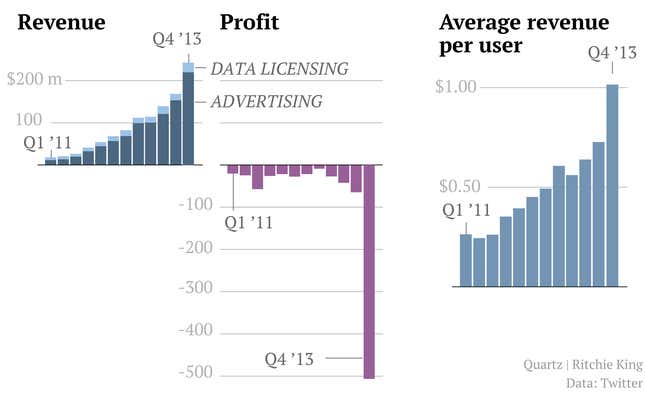 But the report is also a reminder that Twitter is not Facebook, which turned 10 years old yesterday. After adjusting for their relative ages, you can see that Facebook built its user base and advertising business much faster than Twitter. That matters because Twitter's stock is currently trading at levels that assume it can build an advertising business much like Facebook's. If so, it has some catching up to do.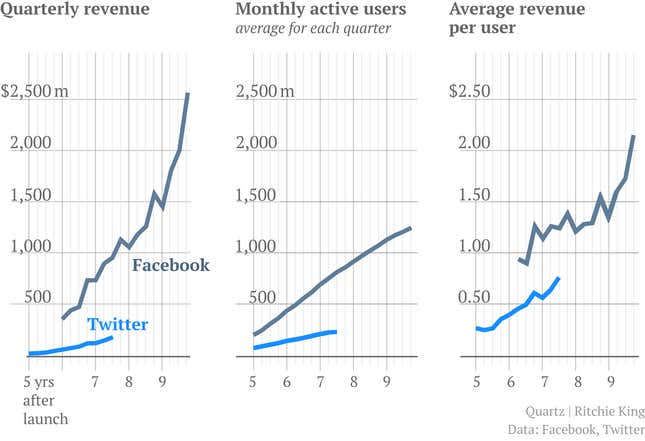 On the bright side, Twitter makes 75% of its advertising revenue from mobile usage, while the comparable figure for Facebook is 53%.
Correction (9:53pm): Twitter added 9 million monthly active users in the last quarter of 2013. A previous version of this article misstated the year as 2012.