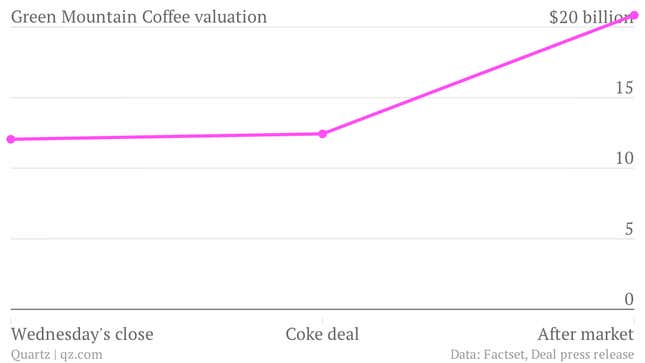 The Coca-Cola Company and Green Mountain Coffee Roasters, two giants of caffeine, announced a partnership today that, on the face of it, looks like a bad deal for shareholders. Here's why nobody seems to be complaining.
The deal leaves Coke with a 10% stake in Green Mountain and Green Mountain with the largest beverage company in the world signed onto its new cold beverage platform. Coke paid below market value on a per-share basis for its $1.25 billion stake, and the 16.7 million new shares of Green Mountain it acquired were conjured out of thin air.
Green Mountain shareholders got ripped off and diluted—right?
Looking closer, this deal actually added $372 million to Green Mountain's market capitalization, a shareholder benefit. Because the new shares were added at lower proportion than the per-share discount, Green Mountain's value rose from $12.05 billion to $12.43 billion.
Green Mountain has been trying to stave off short sellers like David Einhorn from sucking value from its shares and Coke has been interested in getting a piece of in-kitchen soda making since at least July. The deal gives both of the companies a shot a resolving those issues. As of 6:04 pm in New York, shareholders valued Green Mountain at $20.8 billion in after-market trading. Soda Stream, a popular counter-top soda making company, lost 8% in after-market trading on the news of the deal.